Introducing our most popular Full Systems of AliDeck Aluminium Decking
The AliDeck System is a complete solution for aluminium decking for balconies, walkways, and terraces.
With a wide range of decking boards, support joists, and pedestals available, AliDeck delivers excellent versatility to cope with any decking requirement.
With our entire range of products designed to be inter-compatible, various combinations of boards, joists, and pedestals can be mixed and matched to achieve the desired results. To help you more easily understand which combination of AliDeck products is best suited to your project, we have compiled a selection of our most popular and most often requested Full Systems.
Please download the below specification sheets to learn more.
Full Systems with Drainage
Full Systems without Drainage
Full System Installation Demonstration Videos
Junior Board, Lite Joist, Adjustable Pedestal Brackets, with Drainage
Junior Board, Low Joist, Adjustable Pedestal Brackets, with Drainage
Senior Board, Supa Joist, Adjustable Pedestal Brackets, with Drainage
Call the AliDeck team today to talk about our Aluminium Decking Full Systems on 01622 235 672 or email info@alideck.co.uk.
Click on the button below to download our free brochure: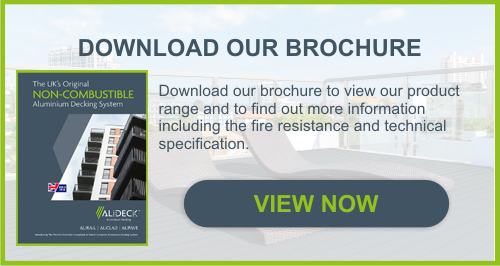 AliDeck manufacture and supply high quality, commercial grade aluminium decking systems with slip resistant and fire resistant features to the UK domestic and trade markets.
01622 235 672  |  info@alideck.co.uk  |  www.alideck.co.uk