AliDeck Pricing and Quoting
The AliDeck System has been designed to deliver a safe, high-quality, extremely durable, and visually stunning solution that delivers excellent value for money. AliDeck are committed to providing our customers with clear, concise, accurate, and transparent quotes for our aluminium balcony component products.
We are able to issue quotes in two ways;
1: Board Only
2: Full System
We are also able to calculate prices based on;
1: Area / Square Metres
2: Precise measurements, preferably from architectural drawings
When producing a quote, it is always our preference to work from drawings or supplied accurate dimensions as this allows us to create the most accurate price for the project and to also tailor the use of the product in the best way to minimise waste and bring the overall cost down.
As the title suggests, these quotes are issued when it is only the decking board that is required.
As part of the sales process, the AliDeck team will identify whether your project requires any underside support or if there is adequate framework in place for our aluminium decking boards to be fixed directly to.
A Board Only quote might be appropriate and very cost-effective if the balcony steelwork is being purpose-designed to work to the maximum span of an AliDeck decking board, or in timber/composite decking replacement projects where any AliDeck board is able to directly replace the existing material.
A Full System quote will be issued when a complete decking solution is required.
Consisting of aluminium decking boards, support joists, fixings, and pedestals and drainage if required, an AliDeck Full System is a complete balcony solution. The individual components will be line-itemised within the quote so you will be able to easily identify the cost of decking, joists, and so on, as well as receiving the overall price for the entire System.
The AliDeck team will work with you to find out the best bespoke Full System solution for your project. Some of our most commonly requested Full Systems are outlined here, for reference.
Calculating Quotes by Area/M² vs Calculating from Drawings
We are able to calculate quotes for you either from a supplied area, in total or per balcony type, or by receiving architectural drawings or sketches with dimensions and performing a full take-off where feasible to capture precise dimensions.
It is always our preference to work from precise dimensions when preparing quotes as this allows us to provide accurate linear metre prices for the project. An added benefit in working from drawings is that our estimators are able to ensure that the AliDeck products are used in the most efficient manner possible to minimise waste, which helps bring the costs down as low as possible.
If drawings or precise dimensions are not available, we are happy to provide quotes based on area as supplied by yourself, although we have found in the past that this is often not the most efficient use of materials and that costs in unnecessary waste are sometimes significant. An additional concern is that quotes based on a given overall area can be inaccurate and lead to a shortfall in purchased material.
To Receive Your Free Board Only or Full System Quote, Please Call the AliDeck Team on 01622 235 672.
Click on the button below to download our free brochure: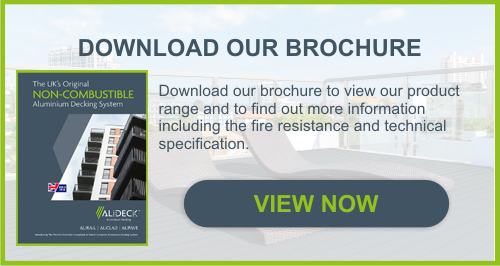 AliDeck manufacture and supply high quality, commercial grade aluminium decking systems with slip resistant and fire resistant features to the UK domestic and trade markets.
01622 235 672  |  info@alideck.co.uk  |  www.alideck.co.uk