Bespoke Project-Specific AliDeck Aluminium Decking Samples
AliDeck is committed to providing our customers with the right solution for their needs. With our in-house design team, our mechanical engineering skills base, and our comprehensive and versatile aluminium systems, we are able to work with our customers to ensure that, whatever the project, all bases are covered.
If you're working on a bespoke project and require a project specific sample, contact us today on 01622 235 672 or email info@alideck.co.uk to discuss your requirements with our design team.
Check out some of our previous project specific samples below.
Aluminium Decking Board, Joist, and Gutter Sample:
Our warehouse team put together this simple construction in a matter of minutes to demonstrate how our 20mm Junior Boards and 50mm Low Joist integrate seamlessly with our Balcony Drainage System.
Comprising a between-board drainage channel and a unique drainage gutter, the AliDeck Balcony Drainage System is our innovative solution to achieve positive drainage in steel and concrete balconies, as well as on terraces or walkways.
Our bespoke samples will leave our customers having instantly learned all they need to confidently place their order.
AliClad Flow Balcony Soffit Cladding System Sample:
With the recent launch of AliClad, our warehouse team, Dan and Allan, had a huge amount of fun putting together this desktop sized sample of our AliClad Flow Balcony Soffit Cladding System.
The AliClad Flow system is designed to provide a controlled drainage solution for balcony undersides. With water falling through the deck surface to the soffit, AliClad Flow captures and channels fluids to a gutter that runs along the front of the balcony.
In the sample, the gutter channel is unpunched in order to divert water to a specified location, but the stock AliClad Flow gutter will be punched to allow drainage along its length.
AliDeck Aluminium Balcony Decking System Sample:
A structure we recently came across was for balconies that narrowed to an acute angle where they were proposed to meet the building and the developer required our positive drainage to run along the whole of the balcony edge.
The solution was our 20mm Junior Flat Board, our 50mm Low Joist, our Balcony Drainage System (consisting of drainage channel and drainage gutter), and our Adjustable Pedestal Brackets, we were able to construct a mock-up of the extreme balcony corner that demonstrated how these elements would come together to deliver a stable deck surface right into the acute angle, and also how the positive drainage would be achieved the full width of the balcony.
AliRail Juliet System Samples:
The addition of AliRail Juliet to our range of AliRail Balcony Balustrade Systems has proved incredibly popular, with keen interest received from architects and main contractors.
AliRail Juliet is our simple solution for balconette design options. Inspired by our AliRail with Spindles Infill balustrade system, AliRail Juliet provides a clean, classic aesthetic.
With such a high level of interest in AliRail Juliet, we have produced a standard small AliRail Juliet sample that we are able to easily manufacture and ship to architects, specifiers, developers and contractors for review.
Click on the button below to download our free brochure: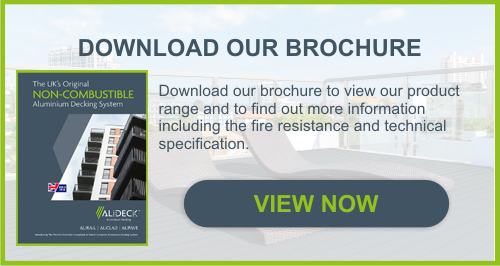 AliDeck manufacture and supply high quality, commercial grade aluminium decking systems with slip resistant and fire resistant features to the UK domestic and trade markets.
01622 235 672  |  info@alideck.co.uk  |  www.alideck.co.uk