Non-combustible and Durable Aluminium Decking is Ideal Replacement for Timber or Composite Decking
With property owners across the country now required to replace all combustible materials in the external envelope of their buildings, the question of how to cost-effectively replace non-combustible timber or composite balcony and terrace decking is at the forefront.
Luckily, we have the perfect timber or composite replacement solution for you; the AliDeck System.
The AliDeck System is fast-becoming the go-to solution for retrofit and replacement on balconies, terraces, and walkways. Designed for ease-of-installation, the quick-fit AliDeck System consists of a wide-range of inter-compatible decking boards and joists to cope with any situation uncovered when you remove your non-compliant timber or composite decking.
To talk about your retrofit and replacement requirements, call the AliDeck team today on 01622 235 672 or read on for further information.
Combustible materials banned following recent fire regulation updates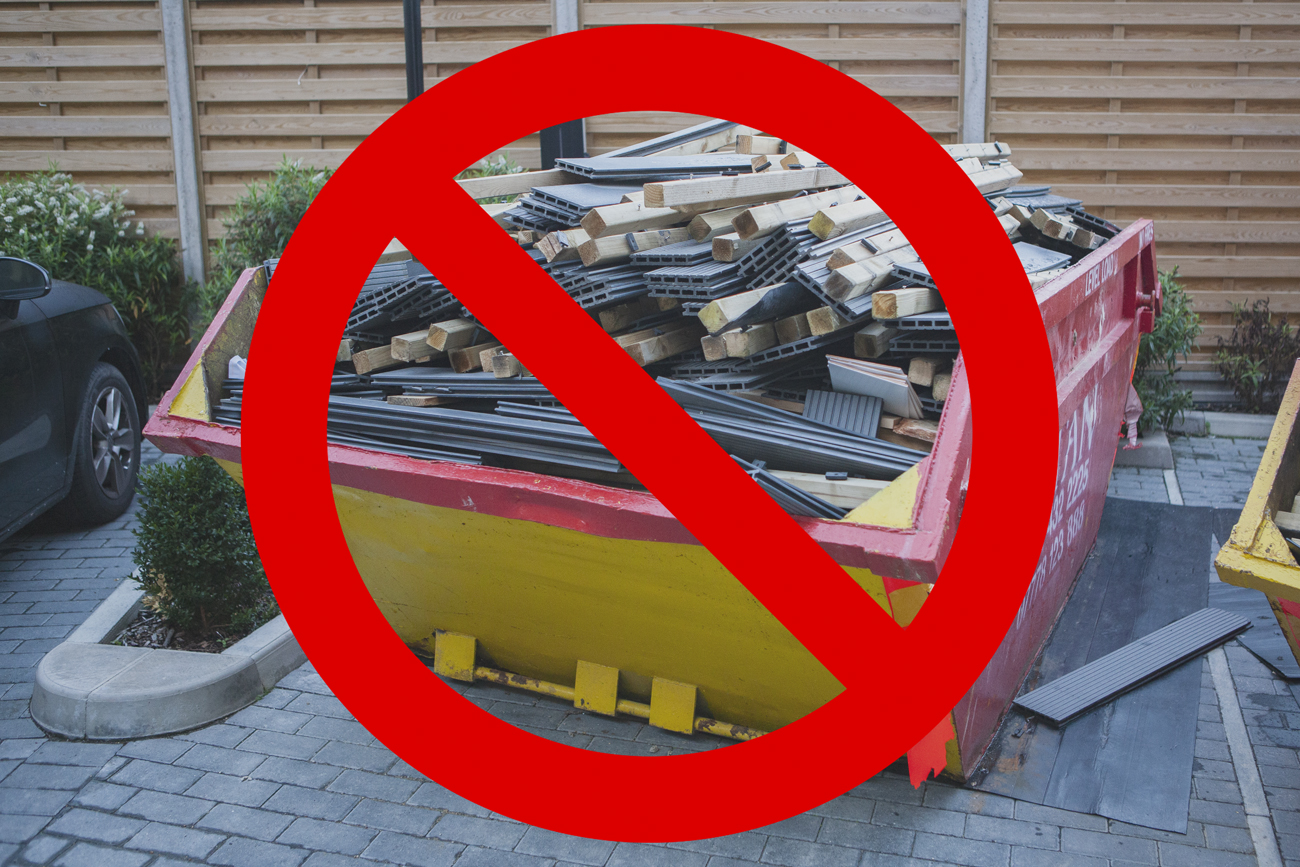 Building owners and leaseholders across the country are facing major challenges regarding the external elements of their properties, including their balconies, terraces and walkways.
Following the Grenfell tragedy, a root and branch change was demanded in the UK's approach to building safety and fire regulations to help prevent such an event occurring again. Regulations were amended in 2018 to ban combustible materials on buildings above 18m and, with new legislation currently before Parliament, further restrictions are expected to soon be written into law.
The end result of this will be the increasing requirement for the use of non-combustible materials in both newly built properties and existing buildings, with the potential for the banning of combustible materials at any height, including at ground level. Clearly, this presents a major challenge for all stakeholders.
While architects and developers are able to relatively easily transition to the specification of non-combustible materials as they design new-build projects, owners and leaseholders of existing buildings are faced with the mammoth task of removing and replacing combustible elements from their properties.
EWS1 Causes Chaos in Leaseholder Market
A consequence of these rapid changes in building regulations and legislation has been the chaos caused firstly by lenders becoming increasingly risk-averse with regards to high-rise multi-occupancy buildings and then further compounded by debacle of the EWS1/External Wall Fire Review scheme.
EWS1 was launched in December 2019 and was intended to solve the issue of lenders being unwilling to take the risk of offering mortgages on properties in high rise buildings. The scheme was derailed almost immediately by the Government's Consolidated Advice Note, issued in January 2020, which required buildings of all heights to be considered for fire safety defects.
AliDeck offer the solution property owners are looking for
While any of our AliDeck Decking Board systems are able to be used as a direct replacement for timber or composite decking, we recently launched our highly cost-effective, low-profile AliDeck Lite Board which was designed specifically for retrofit and replacement purposes. The Lite Board delivers a non-combustible, quick-fit timber or composite replacement decking solution that is tailor-made for property owners looking for the most cost-effective way to achieve compliance with new fire-safety legislation.
AliDeck developed the low-profile Lite Board following conversations with public sector property managers desperate to source a technically and commercially viable solution for essential upgrade works.
Richard Izzard, AliDeck Managing Director, said "Property owners, in the private sector and also Housing Associations and Local Authorities, are now required to replace all combustible elements of their property portfolio, including balconies. Following Grenfell, balconies are now defined as part of the external wall of buildings for the first time and so are included in the new, more stringent fire safety legislation."
"We designed the Lite Board as an entry-level decking board," continued Richard. "While we intended it to answer a lot of questions for the public sector in terms of cost, safety and ease of installation, these benefits naturally translate to usage across all sectors as combustible materials are replaced. It's undoubtedly a great product that will transform the market's response to the new legislation."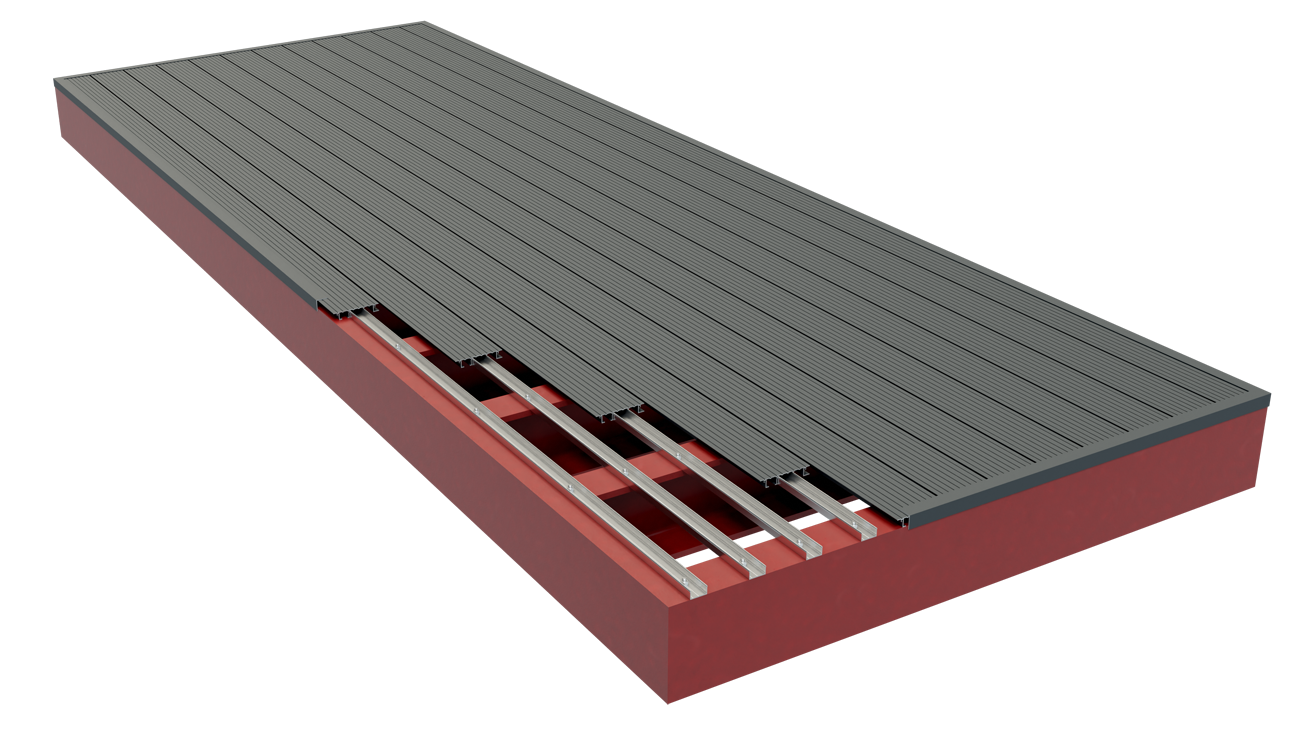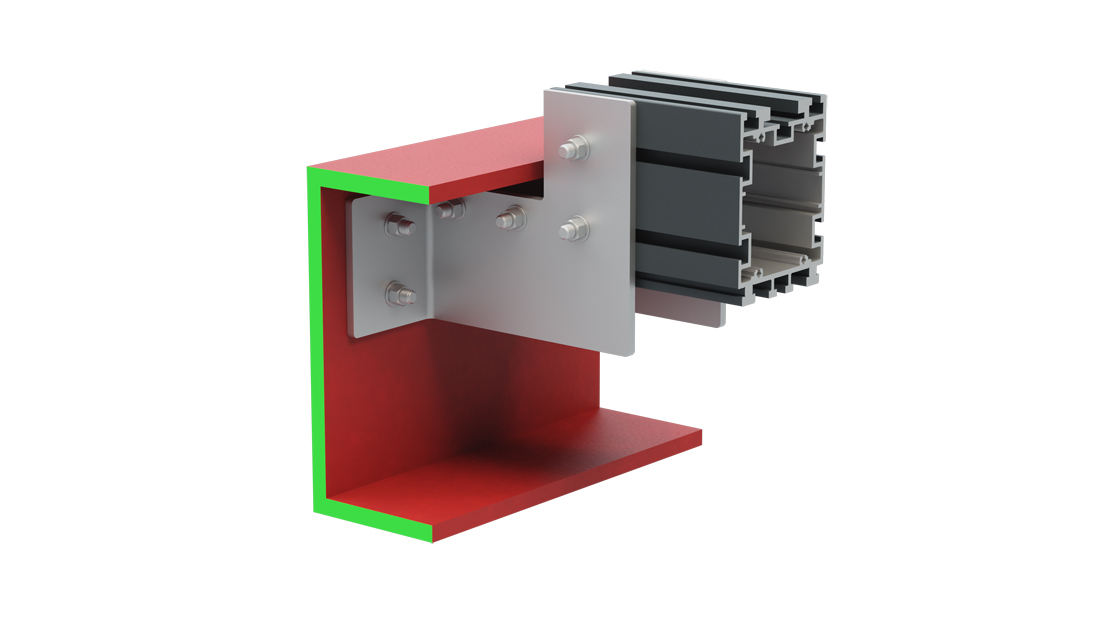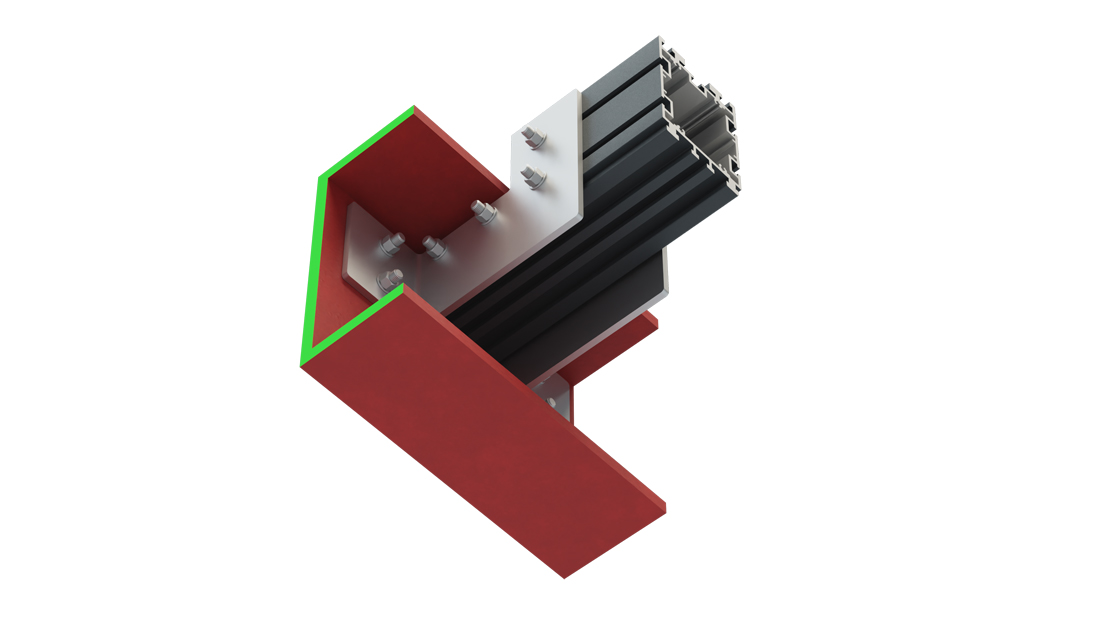 Examples of AliDeck Timber or Composite Replacement Projects
The AliDeck aluminium decking system is highly versatile and able to replace timber or composite decking on any balcony, terrace, or walkway.
Please take a look at these recent projects where AliDeck boards, joists, and pedestals were used as replacement solutions in commercial and domestic applications.
AliClad Decor Timber, Composite, and Plastic Soffit Cladding Replacement Solution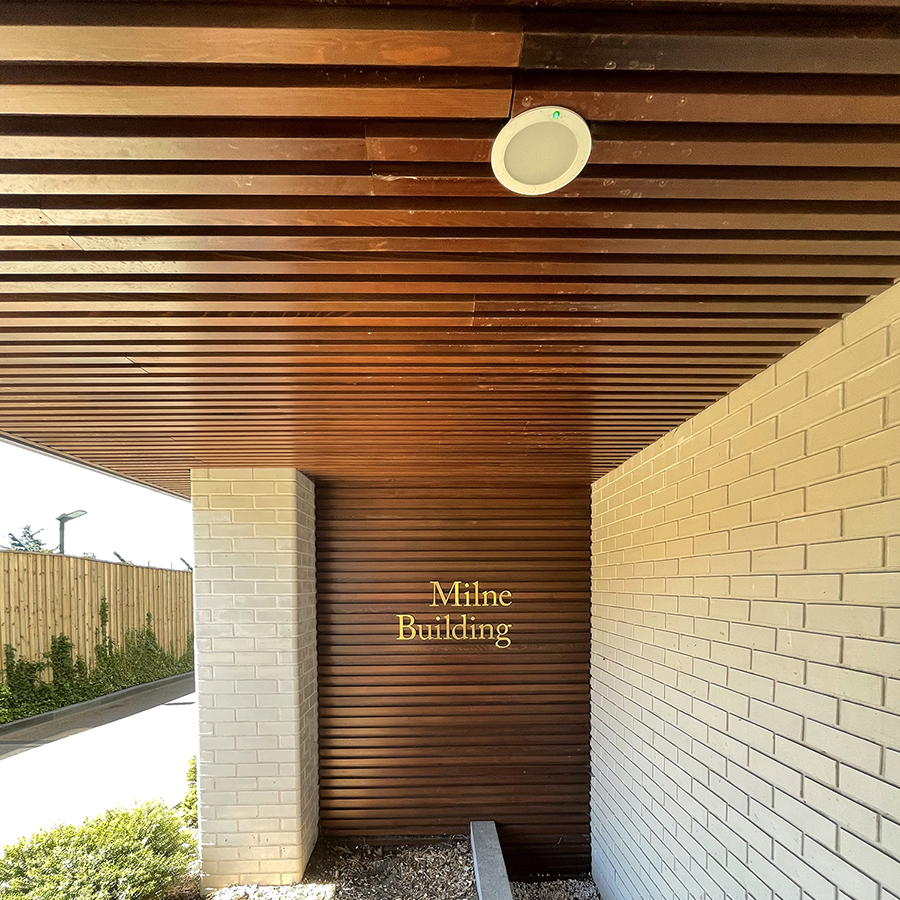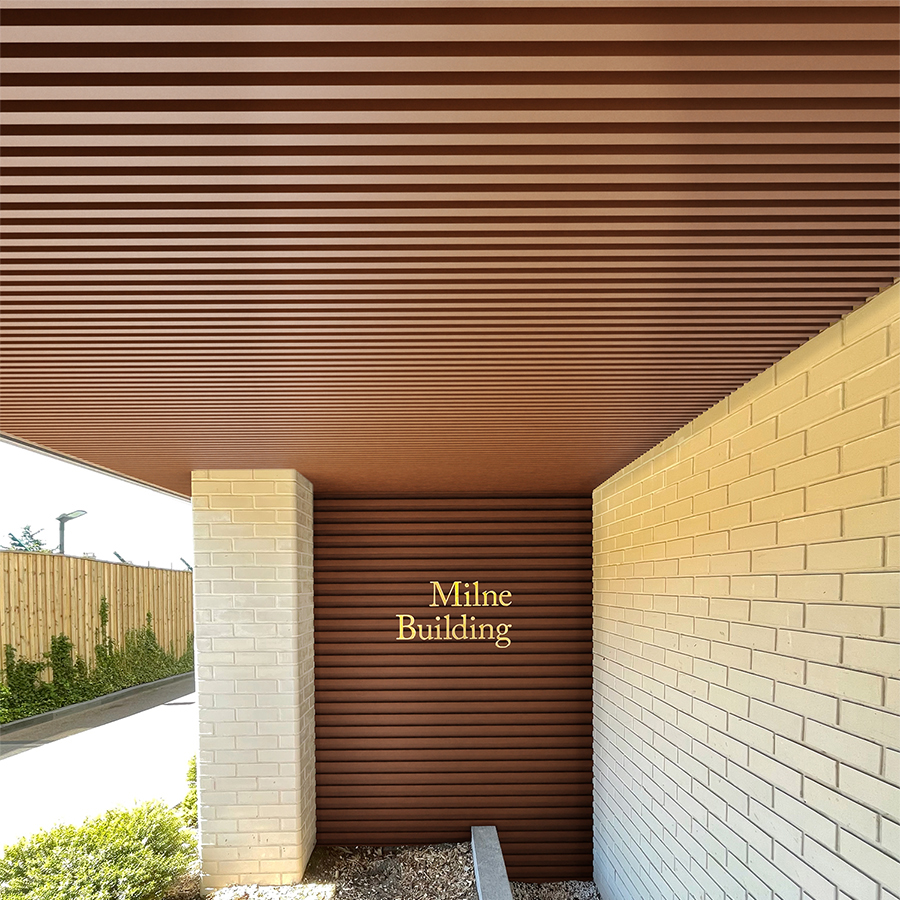 AliClad Lite Timber Soffit Cladding Replacement Solution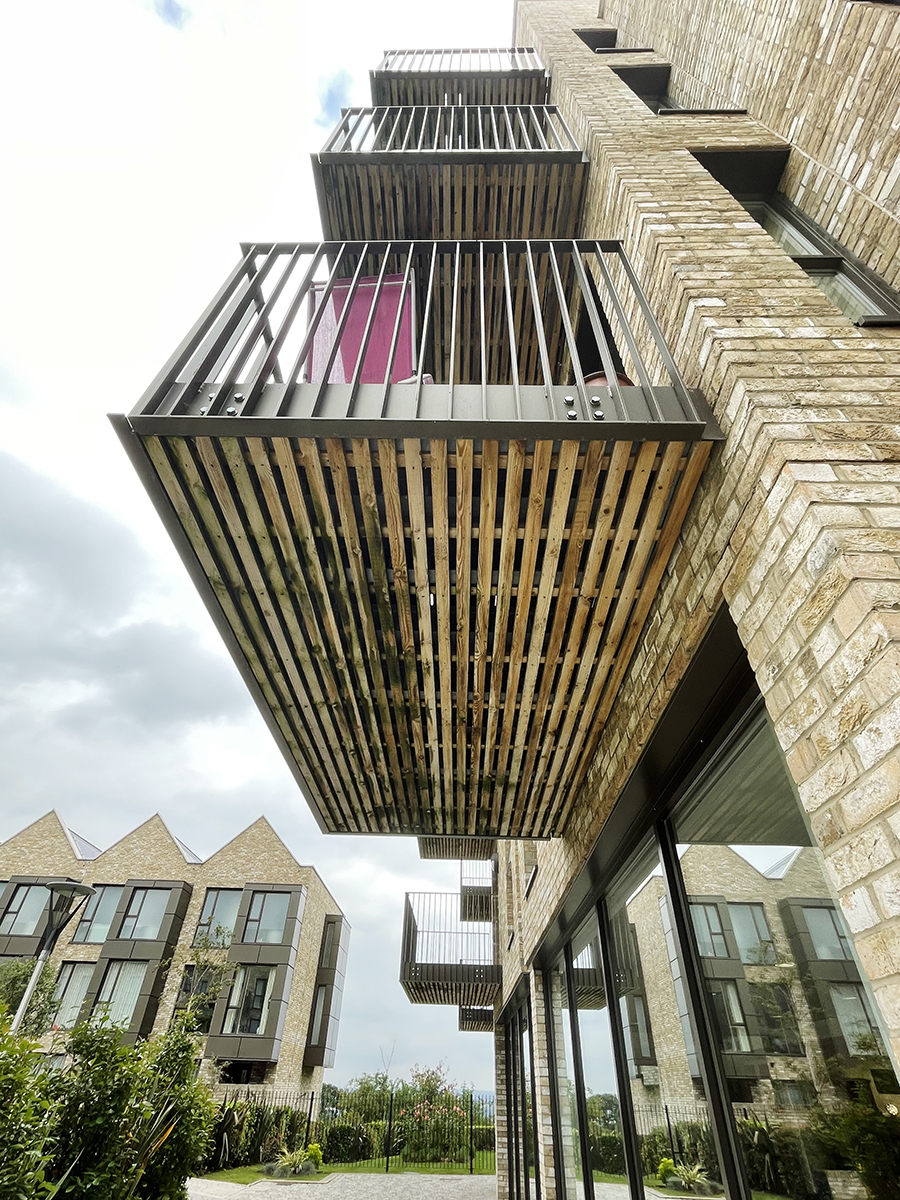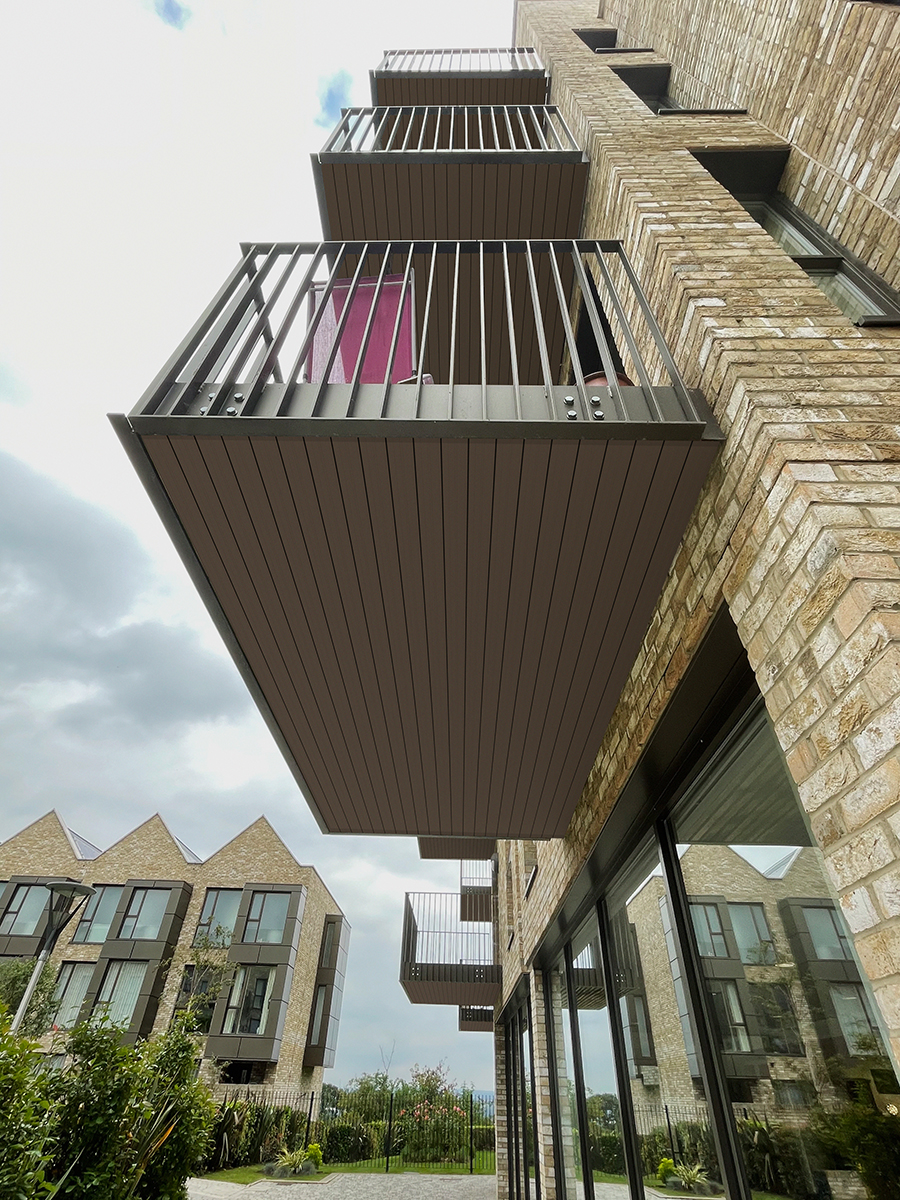 AliClad Decor is the ideal solution for the replacement of combustible materials such as timber, composite, or plastic on soffits. A-Rated AliClad Decor will deliver instant compliance to your soffit cladding and resolve issues with EWS1 survey failures. AliClad Decor is a quick-fit, cost-effective direct replacement for any combustible materials used as cladding on balcony, covered walkways, or any other situation.
AliDeck Timber, Composite, and Non-Combustible Decking Replacement Solution
The AliDeck System is our range of aluminium decking boards and joists. Manufactured from 100% T6-grade aluminium and available powder-coated in any RAL colour, AliDeck is a highly versatile non-combustible decking solution. AliDeck is an off-the-shelf, simple solution to this problem and is the ideal replacement for non-compliant timber, plastic, or composite decking.
The AliDeck Lite Range of decking boards and joists
The AliDeck Lite Board is fully compatible with our established range of joists and pedestals and for even greater flexibility and cost-effectiveness is launched alongside a new low-profile support beam, the AliDeck Lite Joist. Used in combination, the AliDeck Lite Range captures the essence of 'value for money', delivering all the safety and compliance benefits for a fraction of the cost.
Spanning up to 400mm, the Lite Board is an excellent direct replacement for timber or composite decking boards and is able to be fixed directly to existing support beams and bearers. If the existing bearers, once all timber or composite parts are removed, have a larger span then the AliDeck range of Joists could be used in conjunction with the Lite Board to cover spans up to 3 metres.
Interactive Demonstration of Fire Safety Remediation of Combustible Balconies with Aluminium Decking System
The AliDeck range is non-combustible, slip-resistant and durable
Safety is our primary concern and ensuring that our products are fit for purpose in this regard has formed the core of our research and development process.
Independently fire-safety tested to EN 13823, EN 13501 and EN ISO 1716, all elements of the AliDeck System achieve Euroclass Classifications of A2-s1, d0 and A2fl-s1, satisfying legal requirements and ensuring compliance for new build and retrofit projects. Additionally, AliDeck decking boards have undergone Slip Resistance testing and all AliDeck boards have been certified as "Low Risk" for slips in wet and dry conditions.
Alongside our Fire and Slip Resistance certification, our AliDeck Boards have undergone and passed Accelerated Wear testing. These tests included an "automatic foot" stepping on the board surface 100,000 times. The test results stated that the AliDeck boards passed and showed "no observable wear", thereby earning Accelerated Wear certification.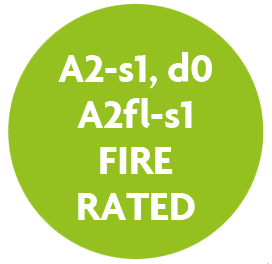 | Rating | Combustibility |
| --- | --- |
| A1 | Non-combustible/No contribution to fire |
| A2 | Non-combustible/No contribution to fire |
| B | Very limited contribution to fire |
| C | Limited contribution to fire |
| D | Acceptable contribution to fire |
| E | Acceptable contribution to fire |
| F | No performance requirements |
| Rating | Smoke Emission |
| --- | --- |
| S1 | Smoke emission absent or weak |
| S2 | Smoke emission of average intensity |
| S3 | Smoke emission of high intensity |
| Rating | Flaming Droplets |
| D0 | No dripping |
| D1 | Slow dripping |
| D2 | High dripping |
AliDeck are the UK's aluminium metal decking experts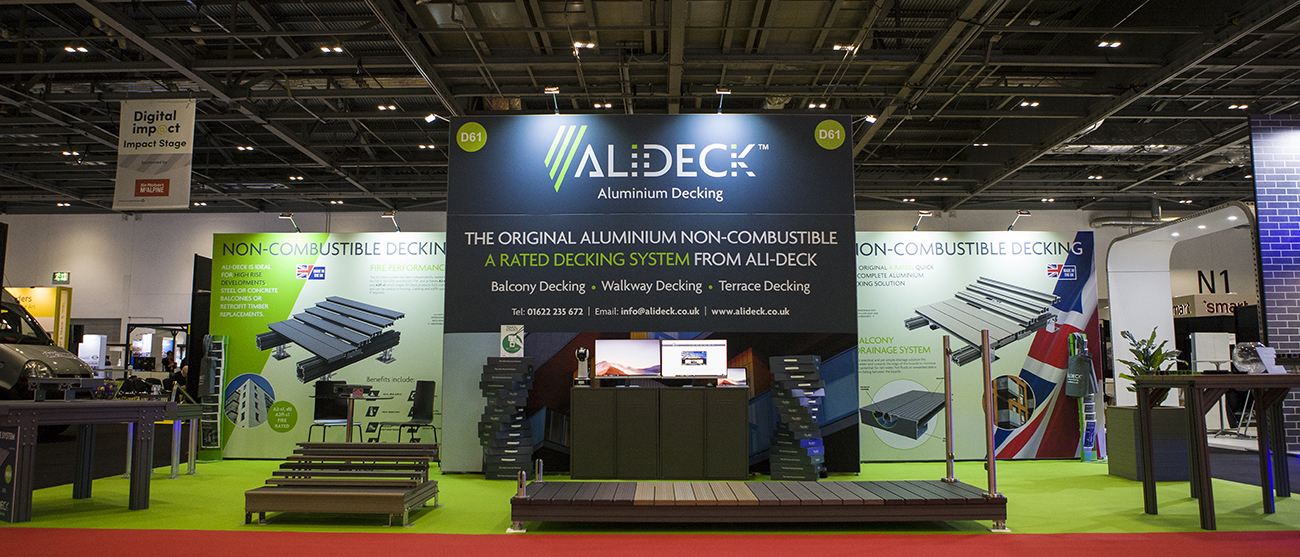 AliDeck, as part of the Milwood Group, has decades of experience in manufacturing outdoors structures from aluminium with a huge portfolio of installed canopies, verandas, carports and more in all areas of the UK.
Launched as a standalone brand in 2019, AliDeck have co-developed a non-combustible, sustainable and easy-to-install aluminium metal decking system with unique and patented features to improve slip-resistance, drainage, and durability while achieving excellent cost-effectiveness compared to traditional timber, composite decking or other metal solutions.
With developers and architects across the country working in a renewed atmosphere of scrutiny following the Grenfell tragedy, AliDeck's expertise has been relied upon to ensure that all specified decking elements exceed safety standards and comply with all new legislation.
AliDeck's decking products have been installed in balcony, terrace and walkway projects the length and breadth of the country and AliDeck are fast becoming the go-to decking supplier for architects and contractors for new-build and retrofit sites.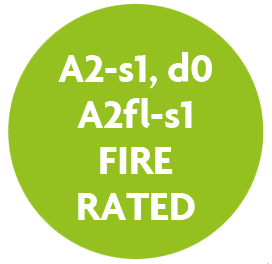 Independently tested to EN 13823, EN 13501 and EN ISO 1716, the AliDeck System achieves Fire Ratings of A2-s1, d0 and A2fl-s1, exceeding legislation and ensuring compliance for new build and renewal projects. Additionally, AliDeck decking boards have undergone Slip Resistance testing and all boards have been certified as "Low Risk" for slips in wet and dry conditions.
Beyond these crucial safety aspects, AliDeck have received very positive feedback from contractors regarding the unique installation aspects of the System. Most impactful has been the increased spanning abilities of the AliDeck boards, saving up to 50% on installation time due to reduced framework fixing and thereby reducing contractor overheads and helping projects deliver on budget.
Additionally, with fixings made directly through the AliDeck boards rather than by using brackets, installation is quick, easy, and very stable. Finally, having passed Accelerated Wear Testing, the durability of the AliDeck products has been a key feature, giving contractors and developers the peace-of-mind of knowing that the products will last for decades, backed by the AliDeck 30 Year Product Warranty.
The AliDeck System of aluminium decking for balconies, terraces, and walkways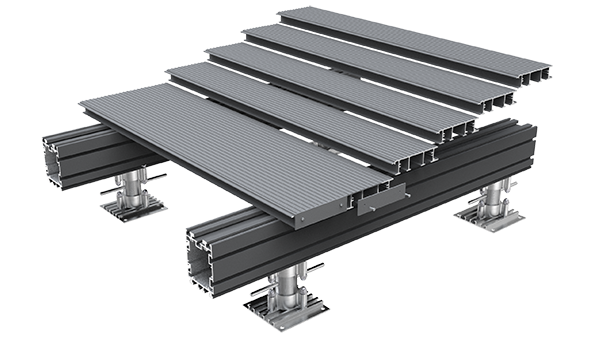 The AliDeck System is a family of configurable aluminium metal decking products, including decking boards, joists, pedestals and accessories. With all elements of the AliDeck System being compatible with each other, total flexibility is provided to cope with any balcony, terrace or walkway decking situation.
Designed as a cohesive suite of products, the AliDeck System is continually developed to always meet the requirements of our clients. Recent innovations include a cost-effective entry-level decking board designed for the retrofit and replacement market, a positively-drained Balcony Drainage System and a simple but effective load-spreading plate.
Click on the button below to download our free brochure: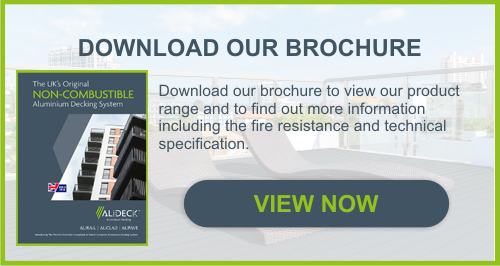 AliDeck manufacture and supply high quality, commercial grade aluminium decking systems with slip resistant and fire resistant features to the UK domestic and trade markets.
01622 235 672  |  info@alideck.co.uk  |  www.alideck.co.uk