AliDeck Aluminium Decking Lite Board
The AliDeck Lite Balcony Decking Board is a cost-effective, low-profile, entry-level decking designed specifically for the retrofit and replacement market. It has all the same product features as our Senior and Junior Decking Boards, including quick installation times, a fully aluminium construction, fire resistance and our 30-year warranty, but utilises a clip fixing system rather than the top-down fixing method of our other boards.
These aluminium metal decking boards are treated with a special powder-coating process which colours the boards in a choice of our full range of AliDeck colours. This finish along with the aluminium construction gives the boards fire ratings of A2-s1, d0 and A2fl-s1 which means they are non-combustible and provide no contribution to fire.
| Rating | Combustibility |
| --- | --- |
| A1 | Non-combustible/No contribution to fire |
| A2 | Non-combustible/No contribution to fire |
| B | Very limited contribution to fire |
| C | Limited contribution to fire |
| D | Acceptable contribution to fire |
| E | Acceptable contribution to fire |
| F | No performance requirements |
| Rating | Smoke Emission |
| --- | --- |
| S1 | Smoke emission absent or weak |
| S2 | Smoke emission of average intensity |
| S3 | Smoke emission of high intensity |
| Rating | Flaming Droplets |
| D0 | No dripping |
| D1 | Slow dripping |
| D2 | High dripping |
AliDeck Lite Board in NBS Source
Fire Resistant Aluminium Metal Decking for Balconies, Terraces and Walkways

Dimensions:
Length: 4 metres & 6 metres | Width: 120mm | Depth: 20mm
Maximum Overall Decking Area: Unlimited
Allowable Span: 400mm on 4kN load

The AliDeck Lite Balcony Decking Boards are completely constructed from aluminium, therefore making them a fully fire-resistant decking solution. These aluminium decking boards are treated with a durable Qualicoat powder-coating to add colour to the boards and gives them a fire rating of A2-s1, d0 and A2fl-s1 certifying the boards' non-combustible nature and which conforms to the government requirements for materials used on the exterior of high-rise buildings.
Lite Board Cantilever Chart
| | Load: | 1.4kN | 2.0kN | 3.0kN | 5.0kN |
| --- | --- | --- | --- | --- | --- |
| Deflection: | | | | | |
| 1/180 | | 120 | 100 | 90 | 70 |
| 1/360 | | 90 | 80 | 70 | 50 |
| 1/500 | | 80 | 60 | 50 | 30 |
Installation
Speed and ease of installation are key to any project, so we have designed a board that is easy to work with and utilises an intuitive clip fixing system. The board can also be trimmed down the length to match any projection of balcony and still be structurally stable across the whole plank. The boards can be cut to size along both the length and width.
The AliDeck Aluminium decking boards are 50% quicker to install compared to other decking systems on the market. These boards are fixed from the top down so requires no fancy, fiddly fixings. It can also span 400mm between joists on a 4kN loading.
Drainage
They can also be spaced to allow for varying drainage requirements (unlike any other system).
Aesthetics
Aesthetics are key to a great finish; our boards are designed to look like decking but not to feel like aluminium.
Colour Options
The decking boards are available in the full AliDeck range of Qualicoat powder-coat colours.
Systemisation
All AliDeck aluminium decking boards are fully compatible with all AliDeck Joists.
Construction
The boards are constructed completely from 100% aluminium (6063 T6 grade), up to 30% of which has been recycled to make these boards eco-friendly and much better for the environment.
Maintenance
Due to the fact that AliDeck is aluminium and finished using the 5 stage Qualicoat system, little or no maintenance is required. General grime can be removed simply with a damp, lint free cloth or mop with warm soapy water.
Protective Finish
The planks are coloured using the Qualicoat powder coating finish. Qualicoat is a quality label organisation committed to maintaining and promoting the quality of coating on aluminium and its alloys for architectural applications.
Warranty
The decking is supplied with a 30 year warranty against splitting, cracking, warping, splintering, rotting, twisting and material or manufacturing defects. It has a minimum 60 year life expectancy.
AliDeck Aluminium Decking Installation Videos
If we are able to use self-drilling screws on our project to fix to steelwork, what kind can we use?
Stephen Cole
2020-07-21T16:04:08+01:00
When you are sure that stainless steel self-drilling screws are suitable for your application, we recommend the following;
For steelwork less than 3mm thick, coarse-thread self-drilling screws should be used
For steelwork greater in thickness than 3mm, fine-thread self-drilling screws should be used
It is essential that self-drilling screws with thermal washers are used. The rubber washer provides a thermal break between the screw and the decking board and reduces the risk of cross-contamination between steel and aluminium. Self-drilling screws with washers of the correct size to comfortably fit within the central fixing area of our decking boards are readily available.
Click on the button below to download our free brochure: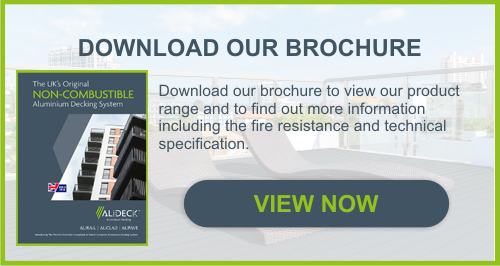 AliDeck manufacture and supply high quality, commercial grade aluminium decking systems with slip resistant and fire resistant features to the UK domestic and trade markets.
01622 235 672  |  info@alideck.co.uk  |  www.alideck.co.uk