AliDeck Approved Installer ArielMet Construction Completes Fire Safety Remediation on hundreds of steel and concrete balconies in East London
AliDeck has worked hard to develop a range of excellent products that meet and exceed the challenges that our colleagues in construction face. That exceedingly high standard for our products, though, has to be matched by an equally high standard for installation in order for the highest level of satisfaction.
Accordingly, we created our AliDeck Training Academy to do all we can to ensure that our customers are best armed for working with AliDeck aluminium decking material.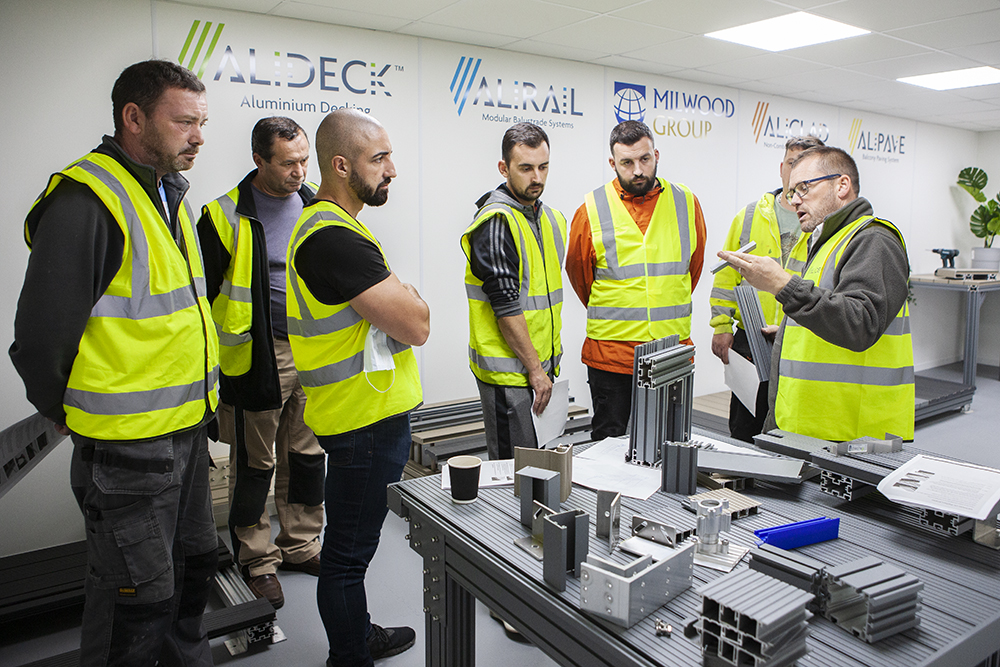 Hosted at our Rochester, Kent, headquarters, the Training Academy is an opportunity for our customers and their installation crews to get hands on with AliDeck products. Delivered by our in-house experts, by the time the session is complete we can be assured that the prospective installer knows all they need to work with our range of decking boards, joists, pedestals, and balcony components. Those installation professionals who complete the Training Academy are able to be accredited as AliDeck Approved Installers.
We work closely with our Approved Installers on their projects, doing all that is required to ensure the successful completion of the projects that we are supplying materials to. The relationships that we have built with our Installers allow us both to collaborate tightly to go the extra mile.
We were really pleased to hear from one of our newer Approved Installers, ArielMet Construction Ltd, recently on the successful completion of the major refurbishment project they were working on in East London. The ArielMet team had been working incredibly hard on the fire safety remediation across hundreds of balconies at a major Stratford development.
With the existing timber decking on the balconies being combustible, it was essential to remove it all and replace with our non-combustible aluminium decking alternative. AliDeck decking is tailor made for this purpose and acts as a direct replacement for timber or composite decking.
The balconies across the development were made up of both steel frame and concrete tray varieties. Many of the balconies ran across adjacent apartments, with the decking being continuous across them but the balcony areas divided by smoked glass privacy screens. Other balconies had acutely angled corners to factor in, requiring precise cutting and shaping of decking boards.
The team at ArielMet had the knowledge and skills to cope with these complicating factors and the installation was completed to a high standard and in good time. This outcome is par for the course for an AliDeck Approved Installer and is an excellent advertisement for the AliDeck Training Academy!
If you would like to find out more about becoming an Approved Installer, or if you would like to speak to us about finding a suitable installer for your new-build or refurbishment balcony project, please call the AliDeck team on 01622 235 672 or email info@alideck.co.uk.
Click on the button below to download our free brochure: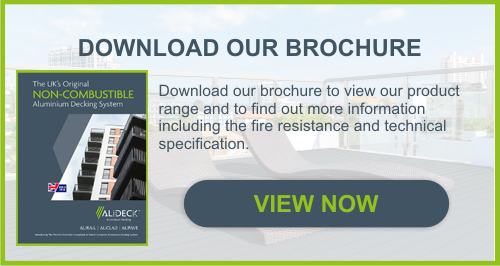 AliDeck manufacture and supply high quality, commercial grade aluminium decking systems with slip resistant and fire resistant features to the UK domestic and trade markets.
01622 235 672  |  info@alideck.co.uk  |  www.alideck.co.uk