The Alideck training academy was introduced so that our clients can attend a single day training session and walk away feeling educated and confident installing our aluminium decking systems themselves. Each attendee will receive a certificate to confirm their attendance and completion of the training.
If you would like to attend one of our training sessions either for yourself or with your staff, please contact us. We can train up to 6 persons at a time to ensure we thoroughly train each individual, making the training more personal and intensive. This high-level installation training will help you and your staff become experts in our products, enabling you to install them with ease and confidence.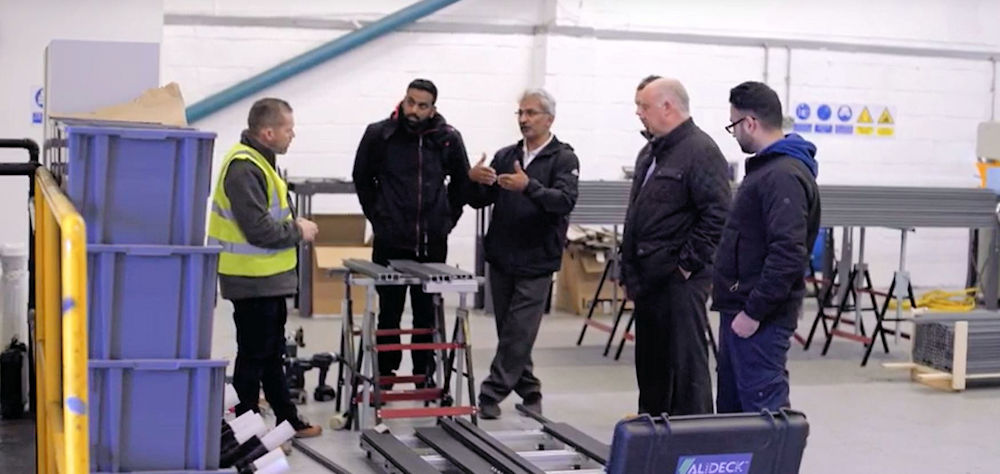 The training academy is very popular and can become fully booked quickly so please contact us with the dates you have in mind and we will let you know what's available. We advise you to book a training session before your order arrives so you can feel confident installing the aluminium decking, saving you time and money on site as you will have experience with the system.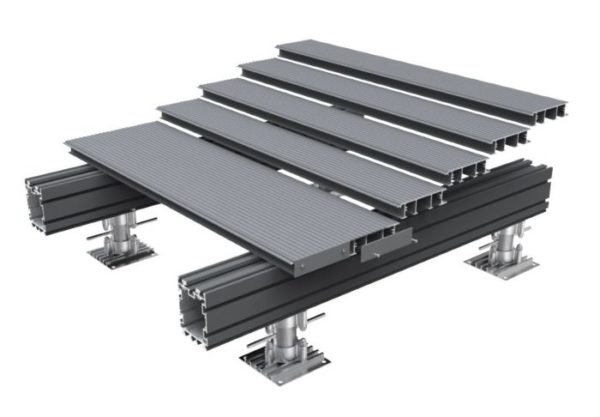 Example Certification
Please see examples below of the certification that will be awarded upon completion of your installation training session.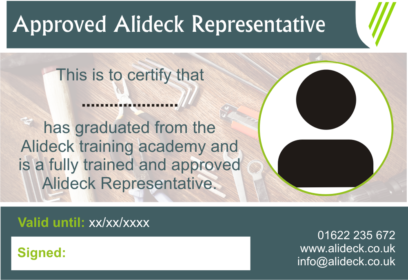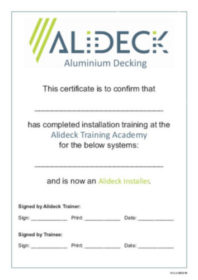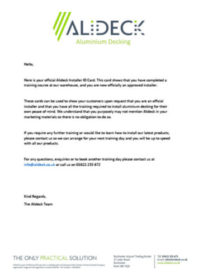 F.A.Q's
We have included the below FAQ's to cover any questions you may have about the Alideck Training Academy. If you have any other questions, please do not hesitate to contact us.
Who is eligible for the training?
The installation training is currently only offered our new and existing customers.
What will the day consist off?
The installation training is completed in a single day and we will take you through the installation of each of our aluminium decking systems and teach you everything you need to know about them. We will work with you and your team for as long as it takes for you to get a comprehensive understanding of the full Alideck system.
How much will the training cost?
The installation training day is free to all customers who have purchased aluminium decking, the aim of our training academy is to train and support your staff so you can become experts in our product range.
Where is the training located?
All installation training days will be held at the Alideck Head Office in Rochester, Kent; the full address is: Unit 27 Rochester Airport Industrial Estate, Laker Road, Rochester, Kent, ME1 3QX
What is the maximum amount of trainees permitted per session?
We currently allocate one Installation Trainer per session and therefore only train up to 6 persons in one go to ensure each trainee can gain the most from their day. If you require more than 6 employees to be trained, please contact us.
Do I need to bring anything with me on the day?
It is advisable for each trainee to have a notepad and a pen to hand so they can jot down notes if required.
Are my expenses covered?
We are unable to cover your expenses such as travel, accommodation and food and drink throughout the day, so it is advised that you bring a packed lunch with you. Alternatively, an Asda store and a catering van that sells hot beverages are nearby where you can purchase refreshments.
How can I book my session?
Call us on 01622 235672, email us at info@alideck.co.uk or fill in the form on our contact us page to find out more information or to book your training session.