AliDeck Aluminium Metal Decking Installation Training
The AliDeck Training Academy was introduced so that our clients can attend a single day training session and walk away feeling educated and confident installing our aluminium decking systems themselves. Each attendee will receive a certificate to confirm their attendance and completion of the training.
If you would like to attend one of our training sessions either for yourself or with your staff, please contact us. We can train up to 6 persons at a time to ensure we thoroughly train each individual, making the training more personal and intensive. This in-depth installation training will help you and your staff become experts in our products, enabling you to install them with ease and confidence.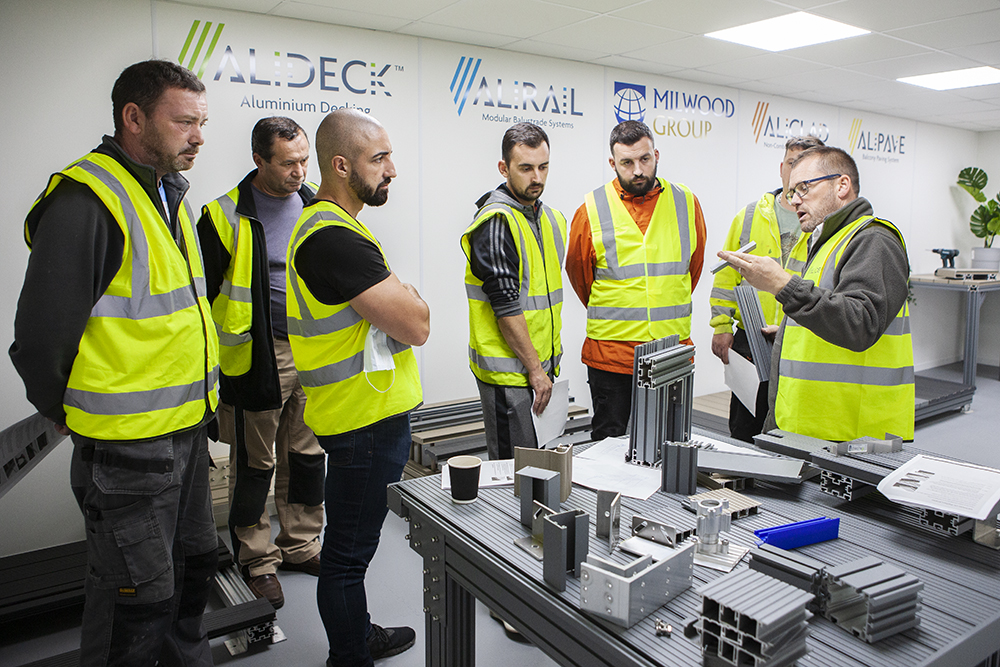 The AliDeck Training Academy is very popular and can become fully booked quickly so please contact us with the dates you have in mind and we will let you know what's available. We advise you to book a training session before your order arrives so you can feel confident installing the aluminium decking, saving you time and money on site as you will have experience with the system.
The training session was very informative and well produced; I was expecting something more like a sit around the table and then some practical demonstrations but actually I think seeing the system and going through the videos etc with Mark was great and ultimately more engaging.

It also helped us to realise that we would need to change our plan for working on site as we'd originally intended to cut everything off-site. After talking to Mark though we realise that practically speaking we need to have an area cordoned off on site to allow for adjustments and minor cuts to fit.

Overall, it was a very worthwhile experience and I'm glad we made the time to attend.
Example Certification
Please see examples below of the certification that will be awarded upon completion of your installation training session.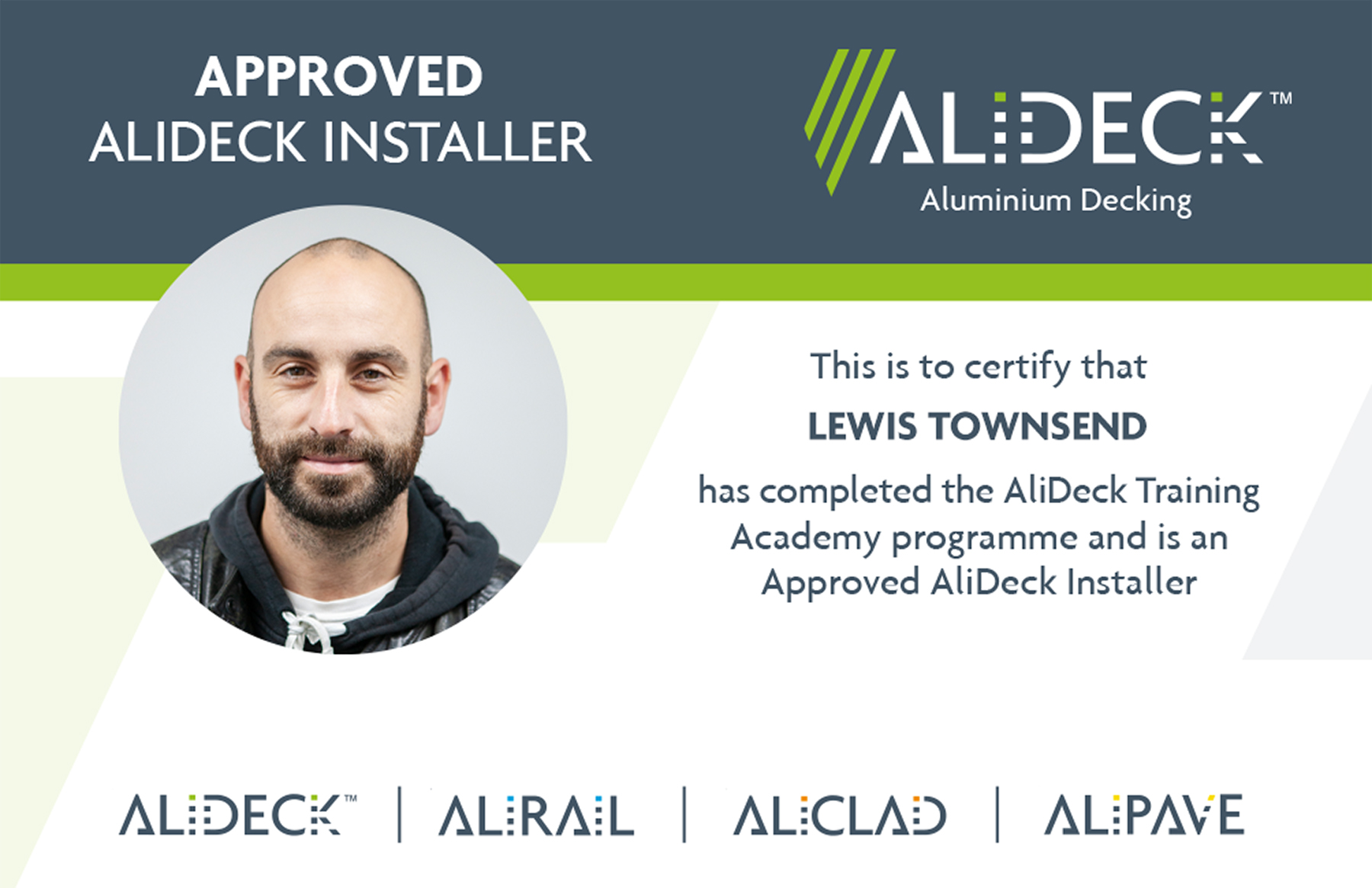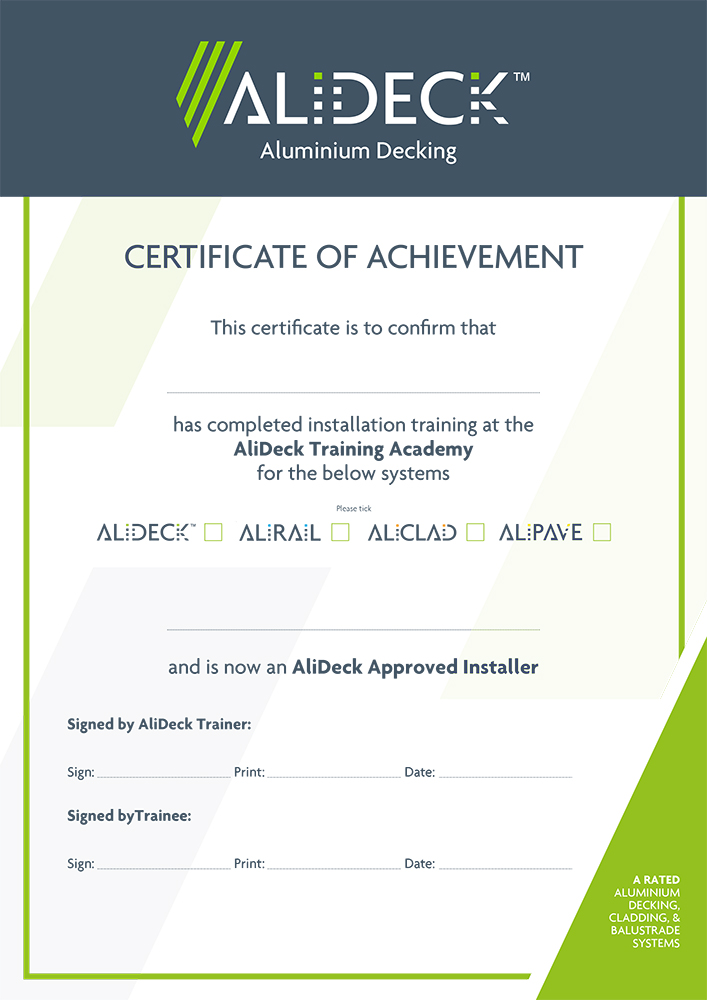 Book Your AliDeck Training Session Today!
01622 235 672

Unit 27 Rochester Airport Industrial Estate, Laker Road, Rochester, Kent, ME1 3QX
Opening Hours
Monday – Thursday: 8:30am – 5pm
Friday: 8.30pm – 4pm
Saturday & Sunday: Closed
Enter Your Details Below
By submitting this form, you confirm you are happy for us to keep your details on file, for sales and marketing purposes if relevant. For more information on the security of your data, please read our privacy policy. You can unsubscribe at any time by emailing info@alideck.co.uk.
How can I book my session at the AliDeck Training Academy?
Stephen Cole
2020-05-27T15:44:59+01:00
Call us on 01622 235 672, email us at info@alideck.co.uk or fill in the form on our contact us page to find out more information or to book your training session.