Alideck Features in Building Products Magazine
We are very proud to show off our front page and double page spread feature in the June edition of Building Products which can be viewed online here: Alideck Feature in Building Products (See pages 26-27.)
Building Products is a multi-platform publication that is aimed at specifiers in the UK building industry to help building professionals make a more informed decision about which products they specify. The magazine launched in 1977 and has built an unrivalled reputation for high standards, with technically accurate and credible content that specifiers working across all project types can rely on.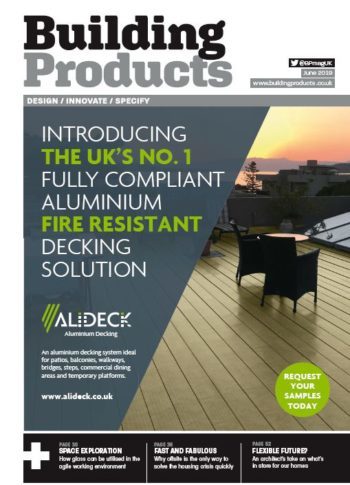 We were lucky enough to secure front page coverage in their June issue which has a focus on floors and floor coverings. It therefore made perfect sense for us to promote our aluminium decking products in this edition. Our aluminium decking boards are ideal for covering exterior areas on ground floor level as well as balconies and roof top terraces, so whatever your decking needs, our boards will provide the high-quality, finishing touch required.
Our double page spread features a simple overview of our products and their main features such as the fire resistance, heat resistance, aluminium construction, low maintenance and the stability in all weather conditions. In this case, less is more, the pictures and features speak for themselves.
View our coverage on the front page and pages 26-27 of the publication here: Alideck Feature in Building Products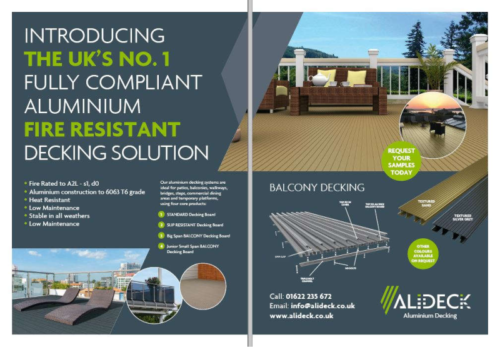 New Junior Decking Board
In other news, we will be launching a Junior Balcony Decking Board soon, so watch this space!
Click on the links below view our current decking products:
Click on the button below to download our free brochure: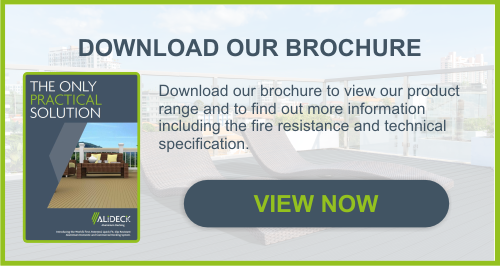 AliDeck manufacture and supply high quality, commercial grade aluminium decking systems with slip resistant and fire resistant features to the UK domestic and trade markets.
01622 235 672  |  info@alideck.co.uk  |  www.alideck.co.uk