Fit Show 2019: Interview with Mark Wood, Managing Director – Ali-Deck
We were extremely pleased to have not only exhibited at this year's Fit Show which was held at the NEC Birmingham, but we also launched our products there too. We received some fantastic feedback and gained many enquiries which we look forward to fulfilling. However, for now, I have shared below the interview that our Managing Director Mark Wood completed with a Fit Show staff member.
Interviewer: "Aluminium has become very popular all of a sudden hasn't it. We're here at the Ali-Deck booth at the Fit Show and I'm here with Mark from Ali-Deck and his matching shoes, look at these, anyone would think we've coordinated before we came down here. But we're not just looking at the shoes here, we're looking at what we're stood upon which is really interesting because this is an aluminium decking system which I don't think I've seen before quite like this. Tell me more Mark."
Mark Wood: "Well, this is a world first to some extent, I say world's first, but there are other aluminium decking systems in the world, but we've just invented this system for the UK market.
What we've done is, we've come up with 3 different deck boards for different situations. We've got a truly slip resistant board, we've got a standard deck board which you can see in the grey next to that there, and we've also got what we call a balcony board so, three boards for three different situations.
We wanted to bring an aluminium system to the market mainly because of the inherent problems that you can get with composite systems and timber systems. Aluminium doesn't expand anywhere near as much as other materials, so you've got a lot of benefits. It's also more cost effective these days."
Interviewer: "I want to talk about this because funnily enough I'm in the market for new decking at the moment because the joists on my decking have gone rotten, it's traditional wooden decking. So composite aluminium is really interesting. I think about cost because I think it is going to be substantially more expensive than a wooden decking system so talk me through the economics of this if you will."
Mark Wood: "In terms of cost, there are systems on the market that are a lot more expensive than this already, composite systems can be as much as £200 per square metre and this is a trade price of £130 per square metre, the underside is sold per linear metre which is £39 per linear metre so it is cost effective but put the cost to one side for a minute because the cost savings for the installer are mainly because you have a bigger span, because it's aluminium, you can span a lot further. You can go up to 1.9 metres between the joists with this which is very important because you don't want to be putting a cross beam or a linear beam in every 400mm."
Interviewer: "Which is what it would be with wood pretty much?"
Mark Wood: "Yes, with wood and composite you are going to put a support in at every 400mm, so 1.9 metres is a big difference. You will be on and off site a lot quicker, it really makes a difference."
Interviewer: "So, efficiency to install certainly being one and also longevity as well, I mean how long would you expect a typical install of one of your Ali-Deck's to last the consumer for?"
Mark Wood: "Well, we give a 10 year warranty on all the products but it is aluminium, it is powder coated to QUALICOAT specification so you're going to expect a minimum of 25 years from the product and then it's recyclable at the end of it, it's not going to landfill so there's a real benefit to that side of it. I'm a little bit surprised that there's not more aluminium decking companies out there at the moment but I've heard on the grapevine that they're playing catch-up."
Interviewer: "Maybe they will now that they've watched this. Thank you very much for chasing us down and showing us through this. Has it been a good show? Some good interest for this so far?"
Mark Wood: "It's day one and it's been really good. There's really good positive feedback from people, even exhibitors saying they want this on their stand and it's really good to see a different bunch of trade enquiries coming from different angles, I'm really impressed."
Interviewer: "As am I, really impressed. Mark from Ali-Deck, thank you very much for chatting us through your new system and I wish you all the very best for the rest of the show."
Mark Wood: "You take care, thank you."
Interviewer: "Cheers."
Click on the button below to download our free brochure: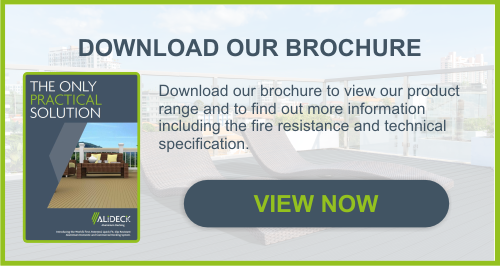 AliDeck manufacture and supply high quality, commercial grade aluminium decking systems with slip resistant and fire resistant features to the UK domestic and trade markets.
01622 235 672  |  info@alideck.co.uk  |  www.alideck.co.uk