Fire safety regulations continue to evolve around safe specification of balcony materials
Following the Grenfell tragedy, a range of regulatory and legislative updates have come into force, from the ban on combustible materials in 2018 and through a series of building safety advice notes, including the Advice Note on Balconies and Residential Buildings in 2019. With various enquiries and reports ongoing throughout and the Fire Safety and Building Safety Bills now in front of Parliament, it has been a busy period of rapidly evolving information.
Perhaps recognising the potential for confusion, the Ministry of Housing, Communities & Local Government issued a consolidated Advice Note for Building Owners of Multi-storey, Multi-occupied Residential Buildings in January 2020 to bring together multiple prior documents into one combined issue. Looking at the contents of this new Advice Note, one can see that advice on Aluminium Composite Material, High Pressure Laminates, Fire Doors, Wall Insulation, and much more has been helpfully collated. Most usefully from our perspective is the inclusion of advice on Balconies alongside these other crucial fire safety areas.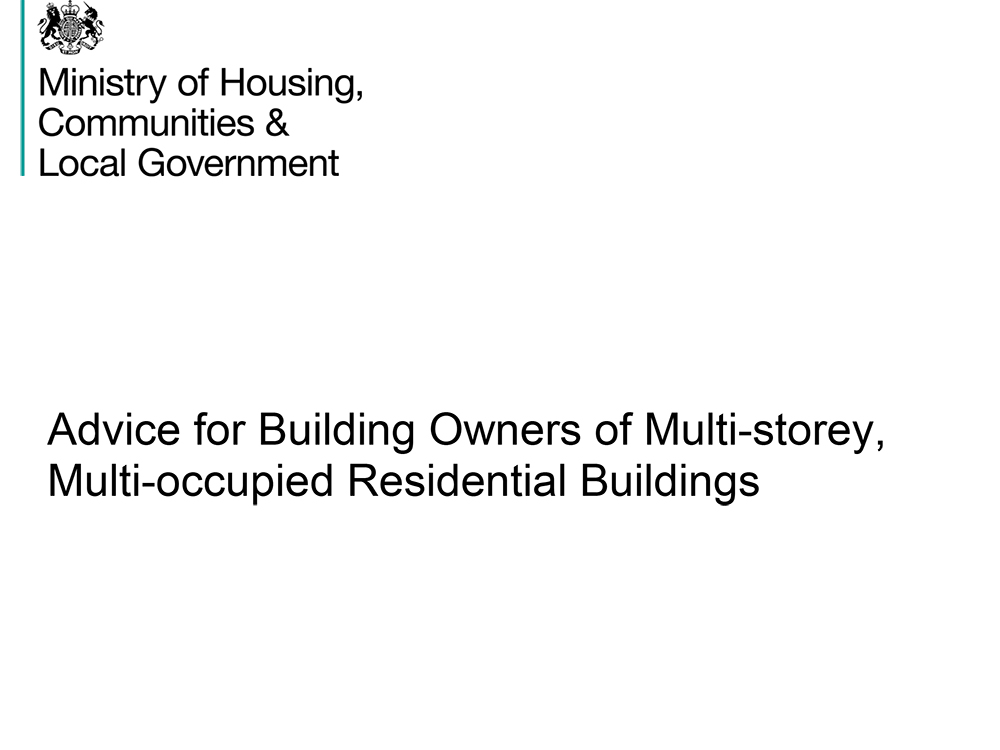 The background notes in the document provide the context of the evolving advice and specifies in clauses 1.17 and 1.18 that, for new-build and refurbishment projects of 18m or higher, balconies were to be included in the definition of "external walls and specified attachments", requiring balconies to be constructed from non-combustible materials rated A1 or A2-s1,d0.
The original 2019 Advice Note on Balconies has been rolled into this new document as Section 7, but with several important modifications included. The overall intention seems to have been to streamline the advice and present this crucial information pertaining to balconies in a clearer and simpler way, removing the potential for misinterpretation. The 2019 Advice Note consisted of 16 clauses in its balcony section (section 2 of 3 in total), whereas the balconies-specific section of the 2020 consolidated Advice Note consists of only 9 clauses.
The most significant change between the two documents must surely be that in the Expert Panel's replacement of combustible materials advice. Clause 7.3 in the 2020 document maps to Clause 2.11 in the 2019 document, but the language used in the new document does provide a new, more instructive tone.
The original Advice Note on Balconies Clause 2.11 is as follows:
The view of the Expert Panel is that the clearest way to prevent the risk of external fire spread is to remove and replace any combustible material with one that is non-combustible (classified as A1 or A2-s1, d0).
Whereas the consolidated Advice Note Clause 7.3 reads (our emphasis added in bold):
The view of the Expert Panel is that the removal and replacement of any combustible material used in balcony construction is the clearest way to prevent external fire spread from balconies and therefore to meet the intention of building regulation requirements and this should occur as soon as practical. 
Clearly, the language in the new document is firmer and leaning much more towards instructive rather than guiding and, in our opinion, much more powerfully shifts the onus of responsibility onto the building owner to take immediate affirmative action to ensure compliance for their balconies.
Until all new legislation has completed its journey through Parliament and becomes law, the construction industry must navigate a difficult path with extreme caution to avoid falling foul of future restrictions. But with this refined and clearer consolidated Advice Note, that task has surely been made a little easier.
The full text of the balconies-specific Section 7 of the January 2020 Advice for Building Owners of Multi-Storey, Multi-Occupied Residential Buildings now follows for your perusal, and the complete document is also available for download.
Balconies

7.1. External walls of buildings, of any height, should not assist the spread of fire, in accordance with the functional Requirement B4 of Schedule 1 to the Building Regulations. Balconies made with combustible materials are a potential source of rapid fire spread on the external wall of residential buildings. It is the view of the Expert Panel that as a result the design of balconies should not assist fire spread along the external wall. Balconies including combustible materials may not meet an appropriate standard of safety and could pose a risk to the health and safety of residents and other building users.
7.2. Building owners should therefore ensure that they understand the materials used in the construction of balconies. This will enable them or their competent advisor to better understand the associated risk of external fire spread and take appropriate action to manage this risk.
7.3. The view of the Expert Panel is that the removal and replacement of any combustible material used in balcony construction is the clearest way to prevent external fire spread from balconies and therefore to meet the intention of building regulation requirements and this should occur as soon as practical.
7.4. There have been several incidents of balcony fires which have led to external fire spread. BRE Global published examples of this in their 2016 report "Fire safety issues with balconies" which can be accessed at: www.bre.co.uk/filelibrary/Fire and Security/FI—Fire-safety-and-balconies-July-16.pdf
7.5. The BRE report concluded that "…managers and risk assessors all need to be mindful of the potential fire risk associated with fires on balconies from their incorporation in to the building…". The Expert Panel supports this advice.
7.6. The BRE Global report quoted above also identifies that there are additional risks from materials used to prevent heat loss through thermal bridging that may increase fire spread.
7.7. Building owners should check that adequate appropriate measures are in place to manage the fire safety of external wall systems (in line with the principles set out in section 3 above). They should also ensure that any risks arising from balconies are considered as part of the fire risk assessment and information provided to residents.
7.8. Where there is doubt over the materials used, or risk presented, building owners should seek professional advice. Where combustible materials have been used and it is assessed that there is a notable risk of fire spread as a result, building owners should seek professional advice and take appropriate action to address that risk.
7.9. The fire risk on balconies can also be increased due to the use of balconies as storage. A significant number of balcony fires start from the unsafe disposal of smoking materials and the misuse of barbeques. Building owners may have existing policies in place as to what can and cannot be stored and used on balconies by residents and may wish to review these in the light of the materials used in the balcony construction. They may also wish to communicate with residents to develop their understanding of these risks.
Click on the button below to download our free brochure: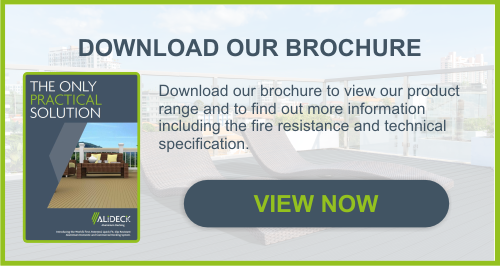 AliDeck manufacture and supply high quality, commercial grade aluminium decking systems with slip resistant and fire resistant features to the UK domestic and trade markets.
01622 235 672  |  info@alideck.co.uk  |  www.alideck.co.uk