Fit Show 2019 Special Offer
Thank you to everyone who visited us at the FiT Show last month, and for expressing an interest in AliDeck, we had a truly fantastic response for our brand-new innovative Aluminium Decking product range!
If you're interested in becoming an approved reseller for Alideck, the best way to increase your enquiries is to invest in a sample deck for your showroom, so with that in mind we have a special FiT Show offer for you below, which ends 30th June 2019.
Sample Deck 'Fit Show' Offer: Ends 30th June 2019
x1 Free Standing Point of Sale Show Piece
Size = 1 Metre x 1 Metre (200mm High)
x2 Slip Resistant Boards (Grey or Sand)
x2 Standard Deck Boards (Grey or Sand)
x2 Balcony Boards (Grey or Sand)
x6 Spot Lights in the Slip Resistant board
As part of your sample kit, you will also receive x18 '118mm' long board samples for your customers to take away, inc. x6 Slip Resistant, x6 Standard and x6 Balcony board samples.
Order your show piece today, for just £395.00 +Vat
Place your order before the 30th June 2019 and we will also give you a total of 30% discount off any showroom display decking you require.
If you would like to discuss the opportunity of securing your area as an approved trade partner, please call us on 01622 235 672 or email info@alideck.co.uk.
Click on the button below to download our free brochure: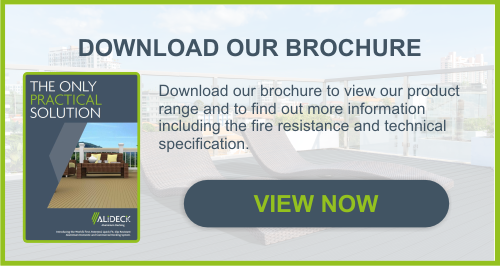 Alideck Manufacture and supply high quality, commercial grade aluminium decking systems with slip resistant and fire resistant features to the UK domestic and trade markets.
01622 235 672  |  info@alideck.co.uk  |  www.alideck.co.uk