Incident report into devastating Bolton fire finds discarded cigarette on combustible balcony likely cause
The Greater Manchester Fire and Rescue Service (GMFRS) have published their Incident Report into last November's catastrophic fire at The Cube student accommodation in Bolton.
It makes for sobering reading as it describes how the fire rapidly tore through the building's high-pressure laminate (HPL) cladding and spread through the roof, with flaming debris falling to the ground and starting further ignition points all around the perimeter. It is a testament to the actions and bravery of the 130 firefighters on the scene that all residents were safely evacuated and that a major tragedy was averted.
The GMFRS report covers in detail the impact of the flammable cladding on the severity of the fire, in a sadly familiar echo of Grenfell. Its intense and unpredictable nature is described, with the conclusion that the building failed to perform adequately under fire conditions. It also relates how one resident was rescued from a sixth-floor window by the high reach appliance moments before the flat they were in was engulfed in smoke and then destroyed by fire.
The report finds that the fire was started by a cigarette discarded on a balcony. That a simple cigarette butt can ignite a fire of this scale and intensity is a horrifying thought but it's a scene repeated many times the length and breadth of the country, with fires started on balconies by carelessly discarded smoking material in Wembley, Leigh-On-Sea, Hampstead, Milton Keynes, Camberwell, and many more.
The report itself details a series of previous balcony fires where "buildings have not behaved as they should"; Wharfeside, Wigan, where a BBQ ignited a balcony and spread through the wooden-framed structure; Light Aparthotel, Manchester, where a fire in a flat spread vertically up the wooden balconies; and De Pass Gardens, Barking, where 20 flats were destroyed as fire spread via timber balconies.
The evidence is clear to see that balconies with combustible materials are often either the direct cause of major, damaging building fires or at least play a large part in spreading already established fires to other parts of the building. Removing combustible materials such as timber or composite and replacing with non-combustible alternatives such as aluminium must now be considered as an essential action.
If you would like to discuss your non-combustible replacement options for balconies at properties you own or manage, please call the AliDeck team on 01622 235 672 or email info@alideck.co.uk.
Click on the button below to download our free brochure: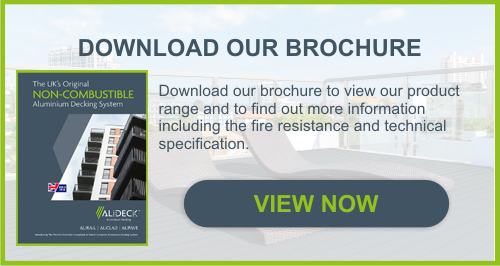 AliDeck manufacture and supply high quality, commercial grade aluminium decking systems with slip resistant and fire resistant features to the UK domestic and trade markets.
01622 235 672  |  info@alideck.co.uk  |  www.alideck.co.uk