AliDeck Lite Board: The non-combustible aluminium decking option required to replace existing timber deck on static caravan in Wales
With the recent launch of our AliDeck Lite Board, we knew that we were immediately addressing a critical issue facing property owners across the country; the replacement of their flammable balcony decking as demanded by new fire regulations following Grenfell.
As with all of our aluminium decking systems, though, we designed in suitable flexibility to allow the product to work in any new-build or retrofit decking situation, whether it be on balconies, terraces, or walkways. It is very satisfying, then, to see that design philosophy pay off with a timber deck replacement installation at a static caravan.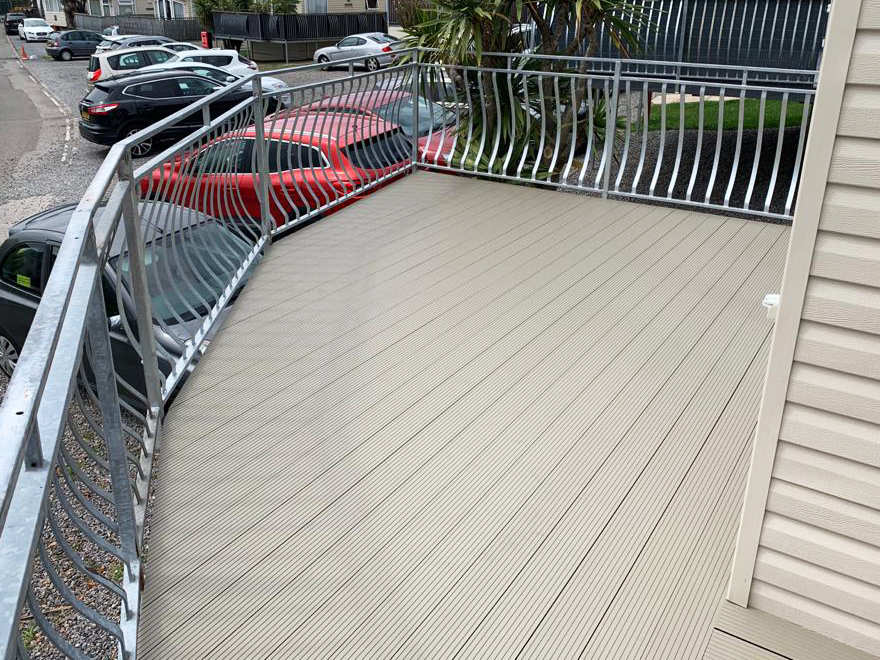 Located in South Wales, our customer was looking for a cost-effective, durable and safe decking solution to replace the raised timber deck around his caravan. When one of his contacts recommended AliDeck, he got in touch with Paul, our Head of Sales, and together they agreed that the best option for his situation was the Lite Board as a direct replacement of the wooden boards, fixed directly to new steel framework for a hassle-free installation that'll last decades to come.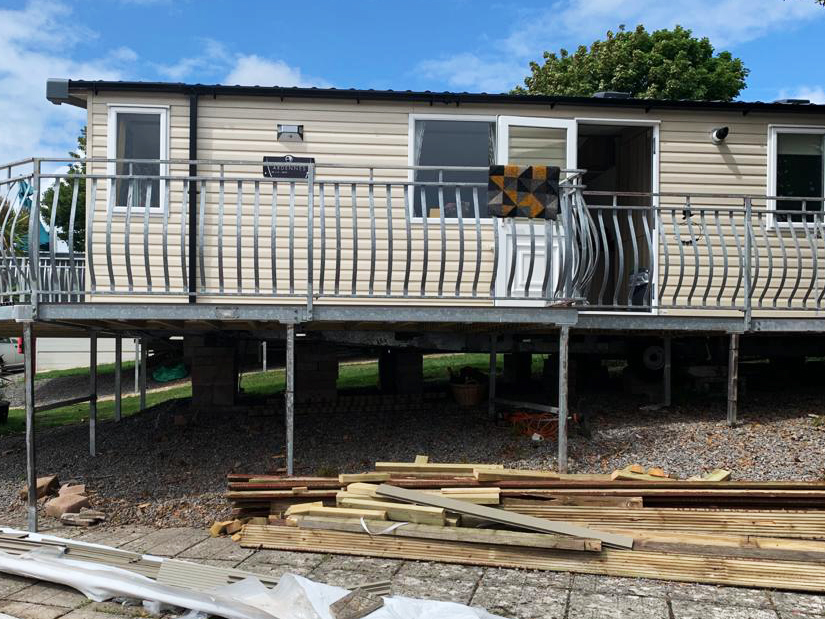 With the holiday park owner satisfied with our fire certification and the aesthetics of our Textured Sand powder-coated boards, the order was placed and the replacement installation went ahead without a hitch. Even with the added expense of the new steelwork, the extreme durability of this new all-metal raised deck ensures excellent cost-effectiveness across its whole lifetime, saving the money that would be required to maintain and regularly replace timber.
Our customer is, of course, delighted with his pristine new raised terrace deck and it's plain to see from the photographs that it's a really visually striking solution. Installed by a local carpenter, AliDeck aluminium decking provides such ease of installation that he was able to make a flawless success of the job and is delighted to be able to add aluminium decking installation to his list of services! With many admiring comments from the park's other residents towards the new deck, there should be plenty of work for him coming up!
If you'd like to talk about installing aluminium decking to your static caravan terrace, please call the AliDeck sales team on 01622 235 672 or email info@alideck.co.uk.
Click on the button below to download our free brochure: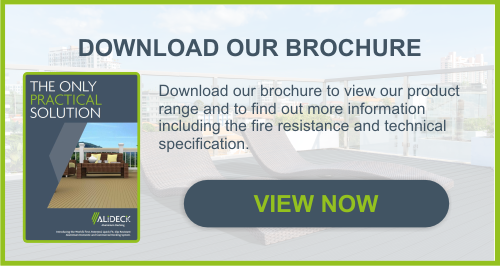 AliDeck manufacture and supply high quality, commercial grade aluminium decking systems with slip resistant and fire resistant features to the UK domestic and trade markets.
01622 235 672  |  info@alideck.co.uk  |  www.alideck.co.uk