AliDeck Approved Installer Unique Outdoor Living Group Complete Complex Fire Safety Remediation Works to Semi-Circular Balconies in Poole, Dorset
The AliDeck System has rapidly become the de facto standard choice for balcony fire safety remediation projects. With our large range of non-combustible aluminium decking boards, joists, and pedestals our products offer practical and cost-effective solutions for any conceivable balcony refurbishment works.
A great case in point is the recent installation in Poole completed by Unique Outdoor Living Group Ltd, an AliDeck Approved Installer. The low-rise residential building boasts striking semi-circular, curved balconies. Sadly, the composite and timber decking and joists were rightfully identified as a profound fire risk that required remediation.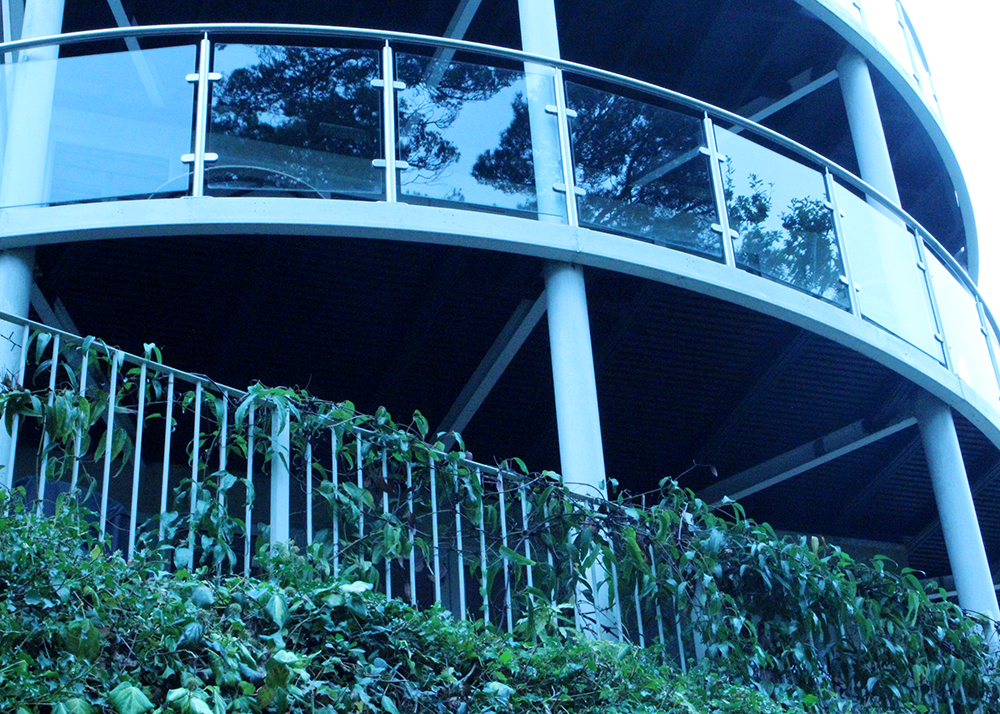 The difficulty was, though, in specifying a compliant solution to not only replace the combustible deck but to also replace the combustible underside support frame. Timber joists were installed within a relatively sparse steel frame, so once all the combustible material was removed there were large voids within the frame where there was no support at all.
Mark and his team at Unique, though, are fully versed in all aspects of the AliDeck System and were quickly able to put forward a proposal that made use of our large-spanning Senior Board and our ultra-strong Supa Joist.
This 105mm by 80mm extruded aluminium bearer can span a huge 3000mm between supports and delivers a remarkably low deflection value of just 4.67mm under a static point load of 1.4kN (well inside the maximum permissible deflection of 8.33mm at a criteria of L/360!).
Recognising the excellent support properties of the Supa Joist, the Unique crew designed an elegant support solution sited within the existing steels to provide a suitably stable foundation for the aluminium decking to be installed to. Notching the joists to sit level with the top face of the steel frame and deploying our simple but versatile joist brackets gave the base required.
The decking itself presented its own challenges, with the curved balconies requiring varying precise cuts at board ends and edges to meet the finish requirements. AliDeck decking boards are able to be cut to length and width, and radius cuts are also perfectly achievable and permissible. The excellent outcome that Unique have achieved here is testament not only to their evident skill but also to the utility of aluminium decking; anything you could do with timber you can easily do with aluminium!
With our Drainage Channel sited between the boards, rainwater is effectively captured and diverted to the balcony edges rather than free draining through to the balconies and areas beneath. Finishing the balcony edges with a bespoke trim, the result is a neat, tidy, and highly aesthetic outcome for the homeowners and residents.
As you can see in these photographs, the complex installation was flawless and reflects the high standard that you would expect from an AliDeck Approved Installer. Unique Outdoor Living Group are based in Poole, Dorset, but are able to cover the whole South West of England for new-build and refurbishment/retrofit projects of any scale. We highly recommend them and look forward to collaborating together on many more projects to come!
To find out more about the AliDeck System and our Approved Installers programme, please call us on 01622 235 672 or email info@alideck.co.uk.
Click on the button below to download our free brochure: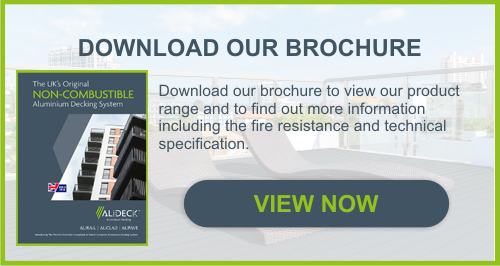 AliDeck manufacture and supply high quality, commercial grade aluminium decking systems with slip resistant and fire resistant features to the UK domestic and trade markets.
01622 235 672  |  info@alideck.co.uk  |  www.alideck.co.uk