The Alideck Supa-Joist is an integral part of the Alideck System! This clever extrusion is designed to act as both a support post and big span joist. The connection plates allow for super fast installation and can be adjusted to suit most applications and conditions.
It has also been designed to be connected together to give additional strength for applications where larger spans are required. The Supa Joist system can be used as a standalone solution and can be used in conjunction with composite and timber decking solutions.
This all aluminium system is unique and modular so it can be extended to any length, it can also be simply connected together to create double the span
depending on the desired foundation spacings, see loadings for single joist span capabilities.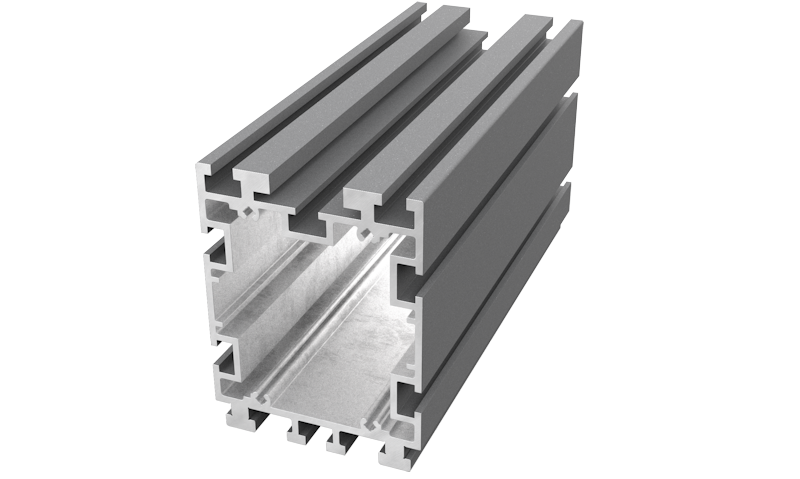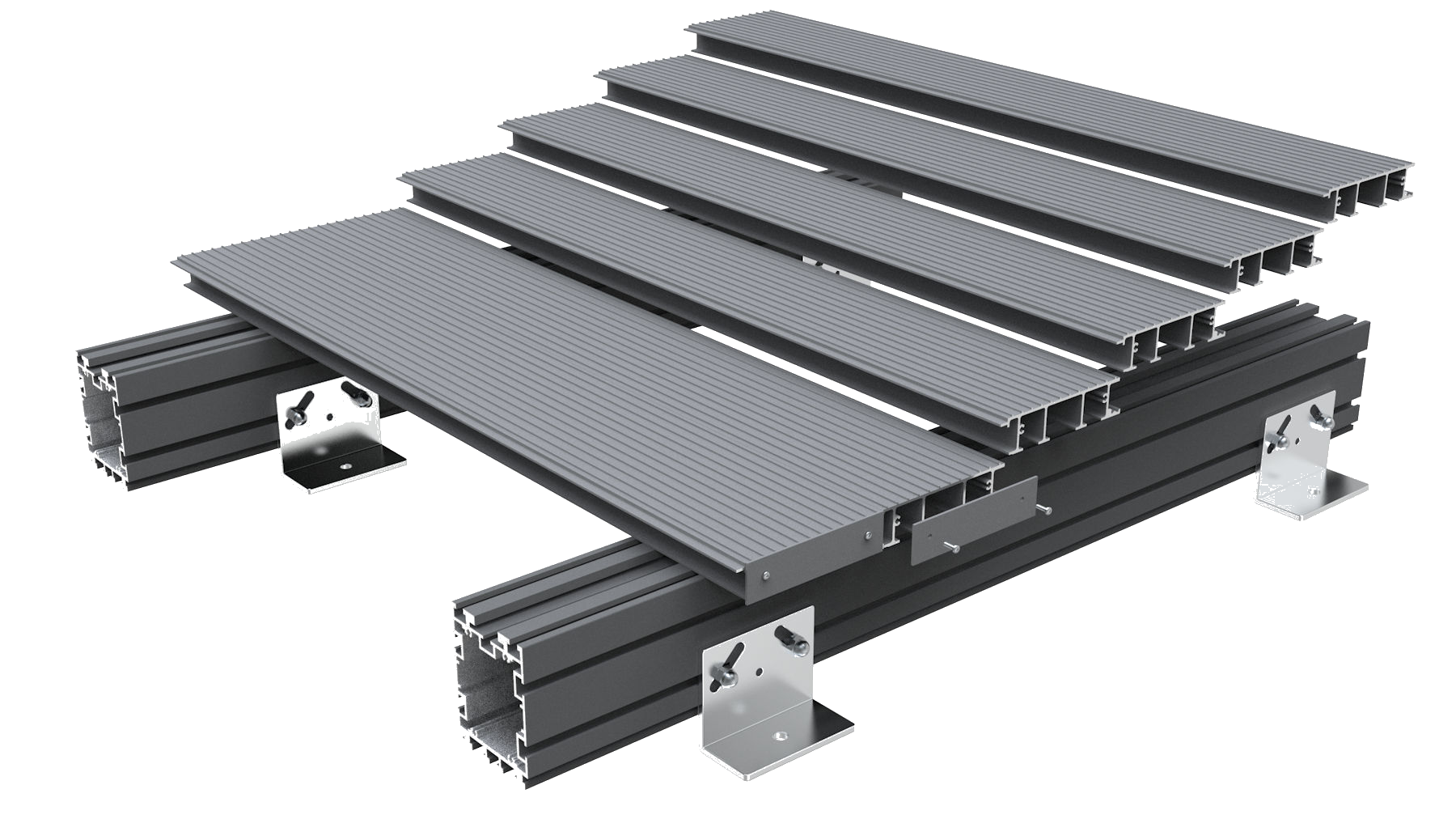 Supa Joist
Ali-Deck's Supa Joists are manufactured from aluminium, and only need to be installed every 1900mm / 1200mm (depending on the loadings that are required) which means quicker installation.
Low Profile Adjustable Brackets
Low Profile Adjustable Brackets are a solution driven product, specifically designed for installations where a low threshold is required, the brackets can be as low as 70mm and up to 125mm (from the top of the boards to the ground).
Ali-Deck Aluminium Decking Boards
The decking board shown is the Standard Interlocking Board. Alternative Ali-Deck boards include:
Slip Resistant Board
Senior Balcony Board
Junior Balcony Board
Senior Flat Balcony Board
Junior Flat Balcony Board
Rooftop Terrace Board
End Plates
The end plates are made from aluminium and are available for all our decking boards.
Traditional timber support structures are manufactured from timber which normally means a joist every 400mm, the beauty of the supa joist is that when used with the Alideck system it only needs installing every 1900mm / 1200mm (depending on the loadings that are required) which means quicker installation.
Aluminium will never need maintenance like timber, it will not crack, warp, or swell, it's impermeable to insects and deterioration, easy to cut and is fade and stain resistant!
Domestic Component Disposition: Joist Spans
| SINGLE JOIST SPANS – Between Supports (Centre Line of Joists in mm) | 600 | 1000 | 1200 | 1500 | 2000 |
| --- | --- | --- | --- | --- | --- |
| SINGLE JOISE SPANS – STANDARD Specification 1/350 | 3600 | 3100 | 3000 | 2700 | 2500 |
| SINGLE JOISE SPANS – FIRM Specification 1/480 | 3200 | 2800 | 2700 | 2500 | 2300 |
| DOUBLE JOIST SPANS – Between Supports (Centre Line of Joists in mm) | 600 | 1000 | 1200 | 1500 | 2000 |
| --- | --- | --- | --- | --- | --- |
| DOUBLE JOIST SPANS – STANDARD Specification: | 5000 | 4200 | 4000 | 3800 | 3400 |
| DOUBLE JOIST SPANS – FIRM Specification: | 4500 | 3800 | 3600 | 3400 | 3100 |
Domestic Load = 1.5Kn SqM
Commercial Component Disposition: Joist Spans
| SINGLE JOIST SPANS – Between Supports (Centre Line of Joists in mm) | 600 | 1000 | 1200 | 1500 | 2000 |
| --- | --- | --- | --- | --- | --- |
| SINGLE JOISE SPANS – STANDARD Specification 1/350 | 2600 | 2300 | 2200 | 2000 | 1800 |
| SINGLE JOISE SPANS – FIRM Specification 1/480 | 2400 | 2100 | 2000 | 1800 | 1700 |
| DOUBLE JOIST SPANS – Between Supports (Centre Line of Joists in mm) | 600 | 1000 | 1200 | 1500 | 2000 |
| --- | --- | --- | --- | --- | --- |
| DOUBLE JOIST SPANS – STANDARD Specification: | 3600 | 3100 | 3000 | 2800 | 2500 |
| DOUBLE JOIST SPANS – FIRM Specification: | 3300 | 2800 | 2700 | 2500 | 2300 |
Commercial Load = 4.0Kn SqM