AliDeck, AliClad, AliRail, & AliPave Installation
The AliDeck family of Balcony Component Systems have been designed to deliver simple and quick installation.
We are delighted to share with you below a series of video clips for the AliDeck aluminium decking, AliClad soffit cladding, AliRail balustrade, and AliPave paving support systems which demonstrate the steps and methods of installing the products.
While these videos are detailed and intended to provide a full picture of installation, we recommend watching them in conjunction with studying each product's installation guide documents.
If you require clarification on any aspect of installation, please call the AliDeck team on 01622 235 672.
AliDeck Aluminium Decking Installation Videos
Senior Decking Board, Low Joist, Adjustable Pedestal Brackets, and Balcony Drainage System
Senior Decking Board, Low Joist, and Adjustable Pedestal Brackets
Installing AliDeck to Steel Framework using Triple Bolt Channel
Using AliDeck Supa Joist to build elevated platform and steps
Timber Terrace Deck Replacement to Resolve EWS1 Failure
AliClad Soffit Cladding Installation Videos
AliRail Balcony Balustrade Installation Videos
AliPave Balcony Paving System Installation Videos
Click on the button below to download our free brochure: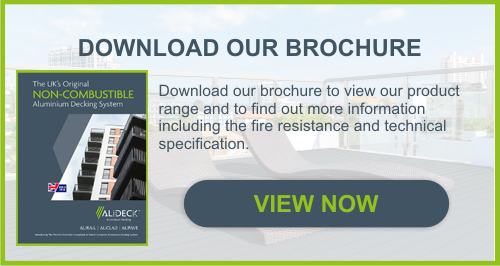 AliDeck manufacture and supply high quality, commercial grade aluminium decking systems with slip resistant and fire resistant features to the UK domestic and trade markets.
01622 235 672  |  info@alideck.co.uk  |  www.alideck.co.uk