By choosing the Ali-Deck range of products you will be able to install decking platforms in record time. This is partly due to the fact that the spanning capabilities are second to none. Traditional decking solutions typically require a joist at 400mm centres but one of the benefits of the all new Ali-Deck System when combined with the Ali-Deck Supa Joist is that you would only require a joist at every 1200mm apart.
With our unique system, you save at least 50% installation time on the underside and that's before you even get to the easy to install deck!
Ali Deck's Success is Due to It's Quick Fit Installation
ALI-DECK STANDARD DECK BOARD

What makes this a quick fit option?
We do not use fiddly brackets with fancy fixings to screw the boards into place! Because Ali-Deck is aluminium you do not have to worry about troublesome expansion of wooden or plastic deck boards.
We simply fix through the Ali-Deck Standard board to give a much quicker fixing through to the substrate and at the same time avoid hidden costs of brackets and difficult to use fixings. We do not use bang on end caps that fall off when they expand or contract in the sun, we only use mechanically fixed aluminium end caps that last!
ALI-DECK SLIP RESISTANT BOARD

This patented decking is Slip Resistant and has a durable rubber/composite insert to prevent you or the public from unnecessary slips. The inbuilt anti slip insert means this is perfect for any commercial or domestic application.
Use the full system and realise the potential of super fast installation and safety benefits of this patented system!
When you combine Ali-Deck Supa Joist with Ali-Deck Slip Resistant Deck Board you will not believe how fast you can install a complete long lasting revolutionary decking system that is built to last!

The Ali-Deck Balcony board has been designed specifically for balcony installations, it is 120mm wide and 30mm deep. It is easy to cut it to the correct width and like all Ali Deck Decking, it is fire resistant.
You can install 90% of the deck board prior to the installation of the balcony if required, once the balcony is installed you can then install the remaining boards. Ali Deck also enables you to install on to existing sub frame sections without having to drill additional holes.
Drainage between the boards is an additional feature.
ALI-DECK ROOF TERRACE BOARD

The Rooftop Terrace boards have been designed to be installed onto the roof top terraces of buildings. It is made from aluminium and features the fire rating A2L-s1, d0 which means it is non-combustible.
The system is a quick to install which saves you time and money due to the spanning capabilities of the Ali-Deck Supa Joists that support the decking boards.
The boards are structurally safe and can withstand heavy loads without the need for additional supports, unlike alternative systems available on the market.
Maintenance Free Qualicoat System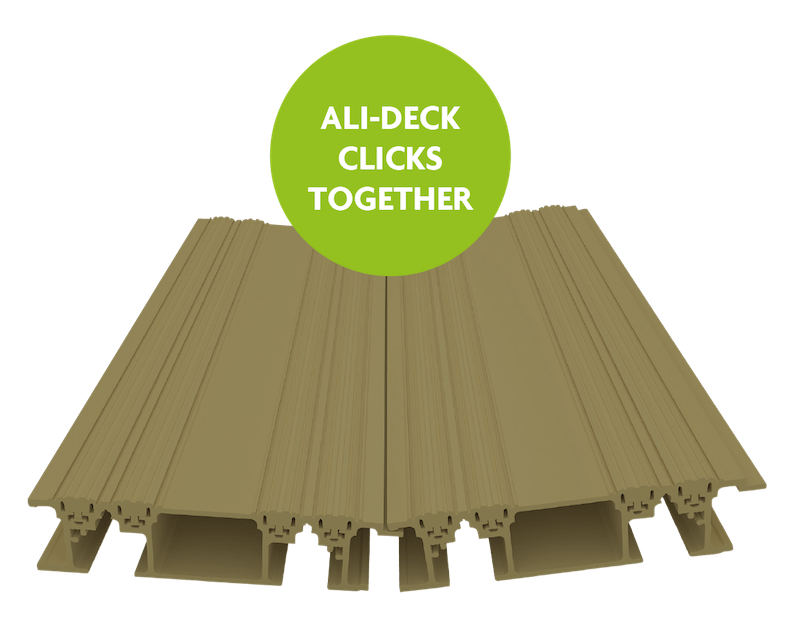 Due to the fact that the Ali-Deck system is aluminium and is coated using the 5 stage Qualicoat system, little or no maintenance is required.
All you need to do is remove any excess dirt or grime and with a brush and mop clean.