Have You Seen Our New Video?
Our new corporate video explains all about our fantastic product; Alideck and where it all began.
Back in 2015, Alideck was born – a non combustible solution for decking that has a high fire resistance, high slip resistance, safer for buildings and better on the environment.
Alideck are now the leaders in non-combustible decking solutions.
Video Transcript:
Welcome to the home of non-combustible, aluminium decking solutions!
Back in 2015, we had the idea to develop a decking solution with properties and characteristics designed to eclipse the prevalent forerunners of timber or composite alternatives and their respective limitations brought to bear on safety, maintenance and our environment. The solution was… AliDeck.
In November 2018 the government introduced new legislation to ban the use of combustible materials applied to the exterior faces of buildings above 18 metres.
The Ministry of Housing Communities and Local government further highlighted fire safety concerns, issuing a formal advice note applicable to balconies being installed on residential buildings, further reinforcing the need for materials to carry a minimum fire rating of A2 s1 d0 thereby precluding the use of timber and/or composite decking and cladding must be removed from balconies on the external faces of buildings.
The AliDeck range has been developed specifically to positively combat these imposed challenges and to provide those concerned with viable engineered solutions.
AliDeck products have been fully tested by accredited bodies and are certified to a fire resistance of A2 s1 d0 and have undergone numerous other performance related tests, extended to include 'slip resistance' using the accredited pendulum test.
So what makes AliDeck the leader in non-combustible decking solutions?
Our meticulous attention to quality and customer focused ethos, we have been extruders of Aluminium kit form outdoor living solutions for more than 20 years which we believe gives us the knowledge and experience to make the most from each and every product we manufacture.
All of our systems have been designed specifically with installation in mind; employing the very latest in technology, our in-house design team uses state of the art 3D prototyping to validate design concept, ensuring products work seamlessly in every situation.
As an example, our big span 30mm deck board when used on steel balconies may mean you can reduce the amount of steel work required to support the deck boards, saving time and material costs of the underside support structure.
With big span options and cost-effective products in the range you can be sure to find a solution to meet your requirements.
So whether your looking to cover fabricated steel or concrete balconies, walkways, terrace areas or free standing platforms… we have it covered!
For complete peace of mind, all of our deck boards are coated using a qualicoat applied polyester Powder coating with every batch being subjected to a host of rigorous tests including impact, cross hatching adhesion tests, resistance to mortar, accelerated weathering and climate test.
Looking for a technically and commercially viable solution?
Be sure to contact us now to arrange a meeting with one of our technical specialists – we would be pleased to help.
If you'd like to know more about us and our decking solutions, please get in touch.
Click on the button below to download our free brochure: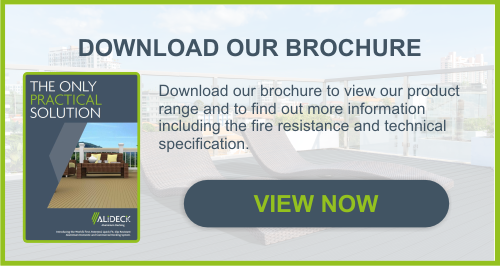 Alideck Manufacture and supply high quality, commercial grade aluminium decking systems with slip resistant and fire resistant features to the UK domestic and trade markets.
01622 235 672  |  info@alideck.co.uk  |  www.alideck.co.uk