Real World Examples of Balcony Fires Caused by Cigarettes 3
Stoptober is a chance to help people change their smoking habits, and as more people manage to quit smoking, the risk of fires on balconies from smoking will be reduced and balcony living will become more fire safe.
Here are some incidents of balcony fires that took place in 2019 and 2018.
In July 2019, there was a balcony fire on the 13th floor of a tower block in the Isle of Dogs. This blaze prompted 67 calls to 999, taking crews from six different stations. This fire was believed to have been cause by the unsafe disposal of smoking materials.
Harold Wood – September 2019
Eight crews from Harold Hill, Hornchurch and Romford and a total of 60 firefighters were called out to a fire that occurred on a balcony of a four-storey block of flats. Investigators were quick to find that the cause of the fire was down to careless disposal of cigarettes. Thankfully, there were no reports of any injuries.
West Hampstead – July 2018
On the third floor of a seven-storey apartment block, a fire broke out on the balcony, which quickly spread to the external balconies above from the fourth to sixth floor. Eight fire engines and 58 firefighters attended this scene after the control room received more than 40 calls regarding the fire. This blaze was also down to the careless disposal of a cigarette.
Click on the button below to download our free brochure: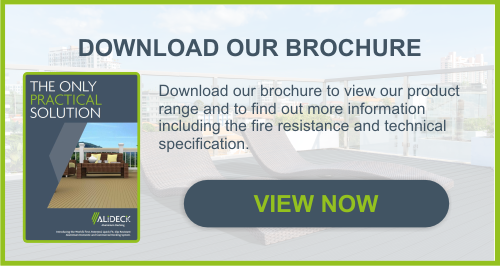 AliDeck manufacture and supply high quality, commercial grade aluminium decking systems with slip resistant and fire resistant features to the UK domestic and trade markets.
01622 235 672  |  info@alideck.co.uk  |  www.alideck.co.uk