AliDeck Senior Balcony Board
The AliDeck Senior Balcony Board has been designed specifically for balcony installations on high rise buildings. They are constructed completely from aluminium with a A2-s1, d0 and A2fl-s1 fire rating and feature the following benefits:
The boards can be cut to the correct width to enable a perfect fit whilst still being structurally stable on point load

Fire Resistant to A2-s1, d0 and A2fl-s1 which means they make no contribution to fire and meet the government fire resistance regulations in high-rise buildings

You can install 90% of the decking before the installation of the balcony to save time on-site. Once the balcony structure has been installed, you can then install the remaining boards

You can install the boards onto existing sub-frame sections without having to drill additional holes

Full drainage is available between the decking boards, simple leave the spacing required when installing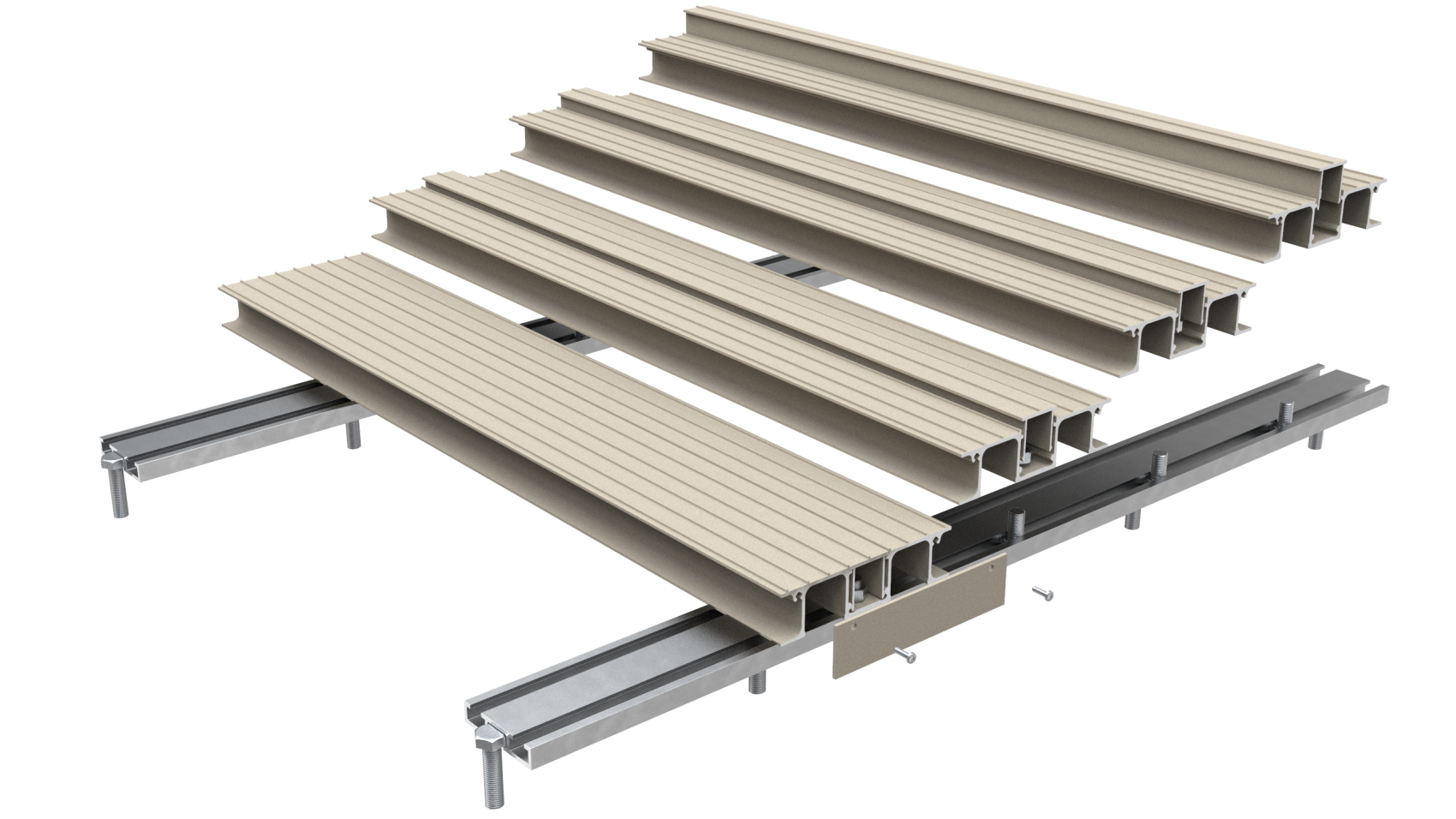 End Plates
Senior Balcony Decking Boards
Triple Bolt Channel
Senior Balcony Board Top Fix-in Covers
Fire Resistant Aluminium Decking for Balconies on High Rise Buildings

Dimensions:
Length: 4 metres & 6 metres  |  Width: 120mm  |  Depth: 30mm
Maximum Overall Decking Area: Unlimited
Allowable Span: 1200mm on 4kN load

Fire Resistance
The Senior Balcony Decking Boards feature a fully aluminium construction which makes them the ultimate fire-resistant decking solution. The aluminium boards are treated with a Qualicoat; durable powder coating which adds colour to the boards and gives them a final fire rating of A2-s1, d0 and A2fl-s1 meaning they do not generate any contribution to fire.
Fire Resistance
Fully aluminium boards which are fire resistant and non-combustible to A2–s1, d0 and A2fl-s1 when coated.
Quick Installation
A quick and easy installation is paramount to every project, that's why we have designed a board that has a unique invisible (structural) top clip system which can be installed from the top down. You can also trim the boards along the length to fit any size balcony whilst keeping a structurally stable construction across the whole plank.
Our aluminium decking boards are 50% quicker to install compared to other decking systems on the market making them your first choice. The boards are fixed from the top down and therefore do not require any intricate fixings. It can also span 1200mm between joists on a 4KN loading.
Drainage Between Boards
The boards can be spaced during the installation to allow for varying drainage requirements (unlike any other system).
Great Aesthetics
Aesthetics are key to a great finish; our boards are designed to look like decking whilst not feeling like aluminium.
Colour Options
The boards are powder coated with Qualicoat and are available in two colours; textured silver grey and textured sand. Other colours are available on request.
Dimensions
Length: 4 metres and 6 metres  |  Width: 120mm  |  Depth: 30mm
The boards can be cut to size along both the length and width
Maximum Overall Decking Area: Unlimited
Allowable Span: 1200mm on 4kN load
Aluminium Construction
The boards are manufactured completely from aluminium only (6063 T6 grade), up to 30% of which is recycled aluminium, making these boards eco-friendly and much better for the environment.
Minimal Maintenance
Because the boards are made from aluminium and coated with the 5 stage Qualicoat process, minimal is maintenance required. Everyday grime can be washed away simply with a damp, lint free mop with warm, soapy water.
Qualicoat Protective Finish
As mentioned above, the planks are coloured using Qualicoat which is a powder coating finish and is a quality label organisation that is committed to maintaining and promoting the quality of coating on aluminium and its alloys for architectural applications.
30 Year Warranty
The decking is supplied with a 30 year warranty against splitting, cracking, warping, splintering, rotting, twisting and material or manufacturing defects. It has a minimum 60 year life expectancy.
Photographs of the Senior Balcony Board Installed in East London