Introducing AliRail Non-Combustible Aluminium Balcony Balustrades
AliRail is another innovative system introduced by the makers of the AliDeck range of non-combustible aluminium decking.
AliRail has been designed to deliver cost-effective, off-the-shelf balustrade solutions for steel bolt-on or slide-on balconies and to deliver excellent aesthetics, durability, and safety.
Enabling hassle-free balustrade specification, with AliRail there is no longer a need for bespoke design. With a range of infill options including aluminium panels, glazing, 3-D aluminium, and spindles, AliRail is a modular system and provides versatility and choice to architects and designers.
The AliRail System; Designed with Steel Fabricators in mind
Installation
Speed and ease of installation are key to any project, so we have designed a balustrade system that has a unique component design to provide quick-fit installation. The handrail, posts, spindles, and other components have been designed to efficiently fit together.
Options
The AliRail System provides multiple options for balustrade finishing, including; aluminium infill panels; glass infill panels; spindles; and 3D twin-skin infill panels.
Aesthetics
Aesthetics are key to a great finish; the AliRail System is designed for attractive and striking visual presentation.
Colour Options
The AliRail System is available in our full range of Qualicoat powder-coat colours.
Lighting
The AliRail System is designed with the option for LED lighting in the handrail, with a range of light colour options, including RGB.
Systemisation
All AliRail System components are compatible with the AliDeck and AliClad Systems.
Construction
The AliRail System is constructed completely from 100% aluminium (6063 T6 grade), up to 30% of which has been recycled to make these products eco-friendly and much better for the environment.
Maintenance
Due to the fact that AliRail is aluminium and finished using the 5 stage Qualicoat system, little or no maintenance is required. General grime can be removed simply with a damp, lint free cloth or mop with warm soapy water.
Protective Finish
AliRail is coloured using the Qualicoat powder coating finish. Qualicoat is a quality label organisation committed to maintaining and promoting the quality of coating on aluminium and its alloys for architectural applications.
Warranty
AliRail is supplied with a 30 year warranty against splitting, cracking, warping, splintering, rotting, twisting and material or manufacturing defects. It has a minimum 60 year life expectancy.
Call the AliDeck team today to talk about our new AliRail range on 01622 235 672 or email info@alideck.co.uk.
Click on the button below to download our free brochure: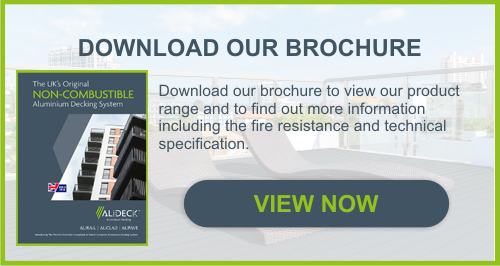 AliDeck manufacture and supply high quality, commercial grade aluminium decking systems with slip resistant and fire resistant features to the UK domestic and trade markets.
01622 235 672  |  info@alideck.co.uk  |  www.alideck.co.uk